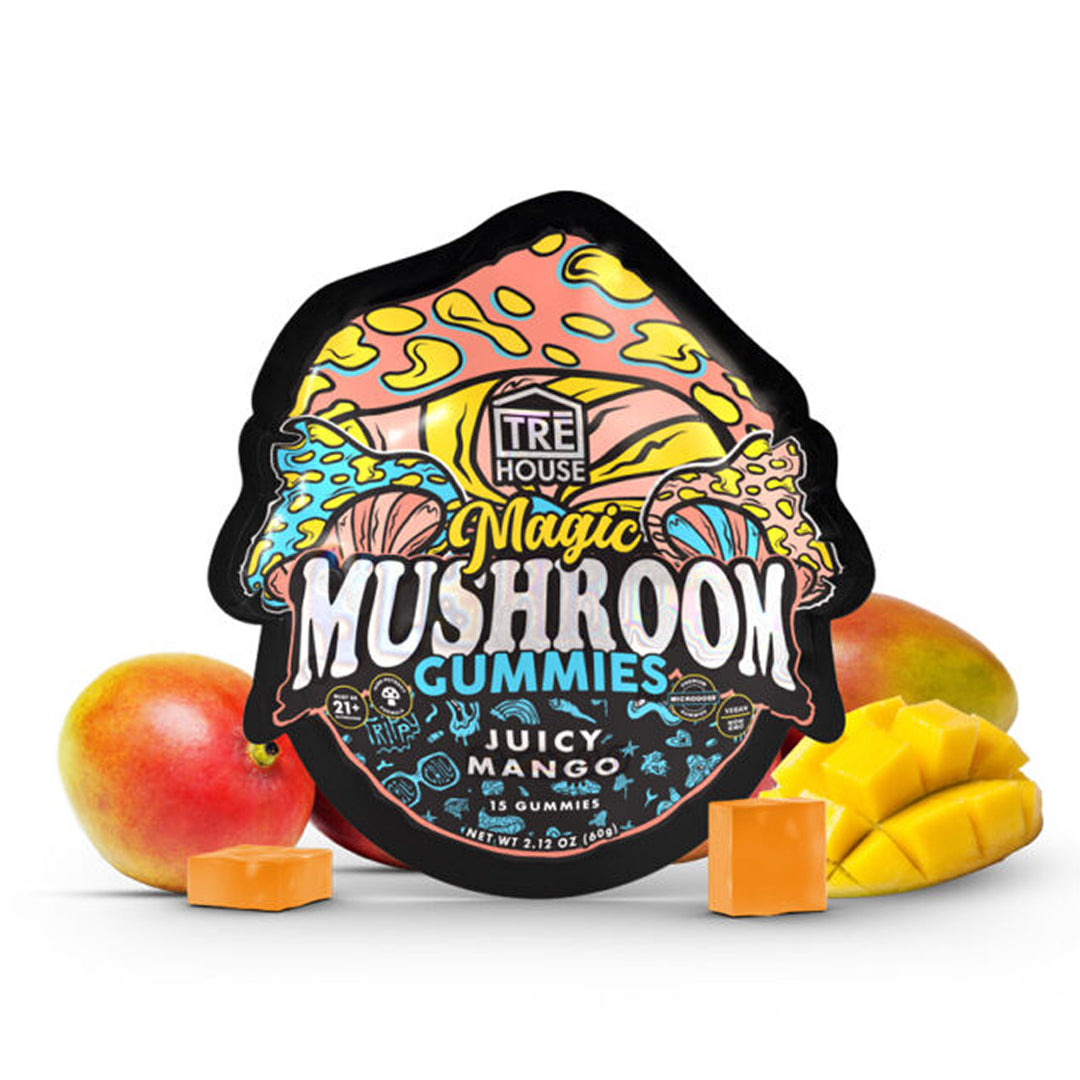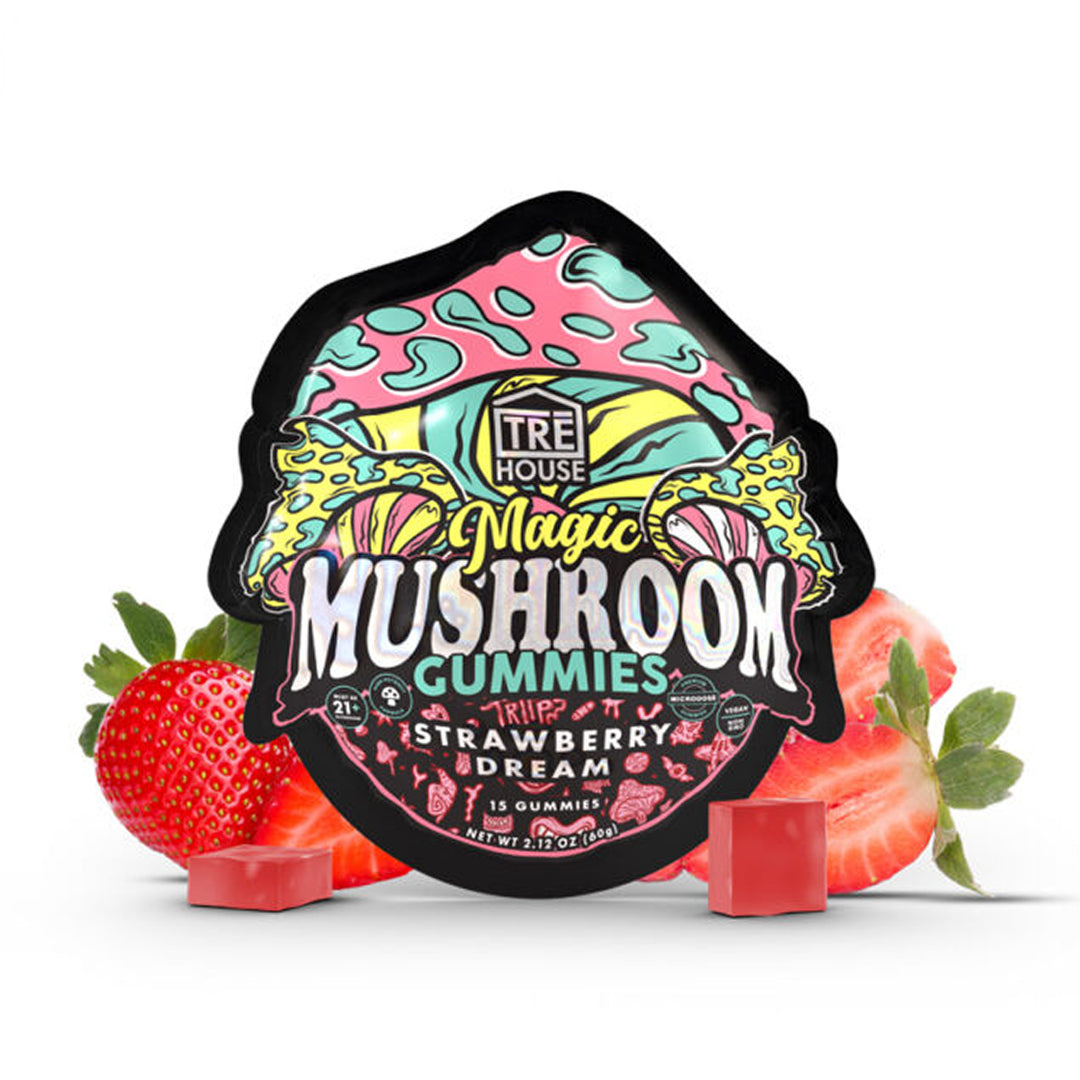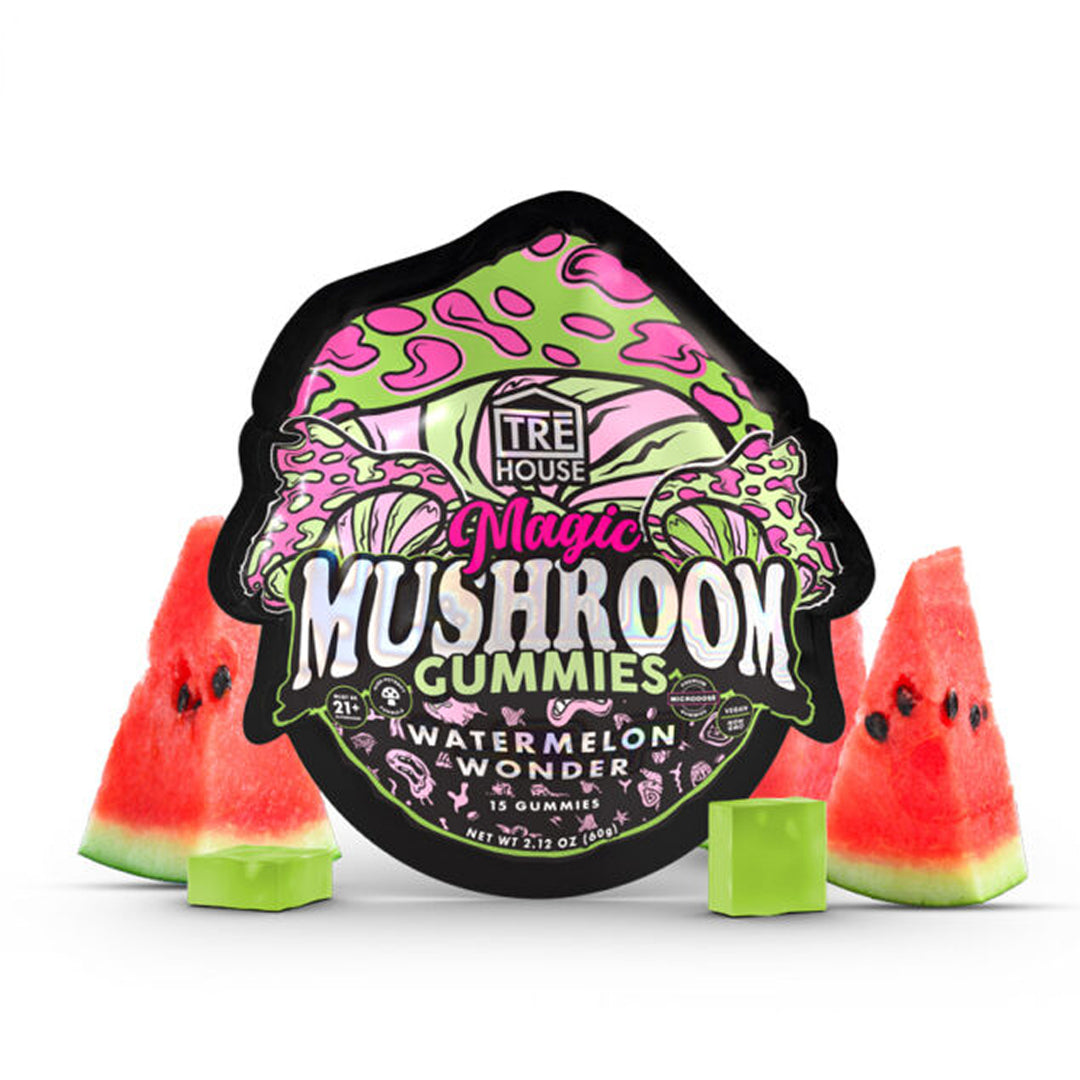 TRE House Magic Mushroom Gummies
---
Step into a world of flavor and exhilarating effects with TRE House Magic Mushroom Gummies. This proprietary blend of mushroom extracts, nootropics, and adaptogens brings you an extraordinary journey towards relaxation, euphoria, and cerebral exploration - all without the taste of actual mushrooms.
Choose from our tantalizing assortment of flavors, each offering its unique journey. Watermelon Wonder, Strawberry Dream, Juicy Mango, and Blue Raspberry - each is crafted with a blend of tryptamines to ensure your experience is nothing short of magical.
Each magic mushroom gummy aims to wrap you in a warm, gentle, vibrating sensation, similar to being carried through space on a soft, white cloud. From relaxation and body buzz to mind-melting fun, these gummies introduce you to an entirely new plane of experience. However, like THC, remember that each person's encounter is unique, with experiences ranging from a soft white cloud to a rocket ride straight to Jupiter.
For best results, treat these gummies like you would any cannabis edible. Start with one to three pieces and wait anywhere from 30 minutes to two hours to feel their effects. Make sure you're in a comfortable space, be it at home with a soothing playlist or outdoors under the stars. Patience is key. Allow the full effects to unravel before taking more to avoid the classic rookie mistake.

Dosage Details:
Pack contains 15 soft, consciousness-altering gummies
Exclusive blend of mushroom extracts
Consuming 1 gummy equates to the faint noise of a television from another room
Taking 4 gummies compares to sitting in the premiere seats of a cinema
Having 7+ gummies can be likened to a teleportation experience right into the heart of the performance.

Tapioca Syrup, Cane Sugar, Pectin, Sodium Citrate, Distilled Water , Natural Flavor, Proprietary Mushroom Blend, Natural Colors, Citric Acid Solution
Your order will ship the same day if ordered by 3PM (if in stock). If ordered after 3PM, your order will ship the following day. Please note that orders placed on national holidays and weekends will be sent the next business day that Ethereal Gold Dispensary is open.
Once your order has shipped (typically via USPS), you will receive tracking information by email.
Special Orders: Looking to order a case of a product for that sweet, sweet discount? While we may not have stock of it, it will ship to from us to you (typically) within a week. You will receive an email with 1 business day of your order with an estimated shipping date.
See our Special Order terms for more information.
Subscriptions: Subscription orders will ship the same day if in stock. If a subscription item is not in stock (such as a Special Order of a case of a product), it will ship to you once the item arrives to Ethereal Gold Dispensary (which may take up to a week).
Ethereal Gold Dispensary automatically will use discreet shipping on all orders at no additional cost to you. Learn more here.