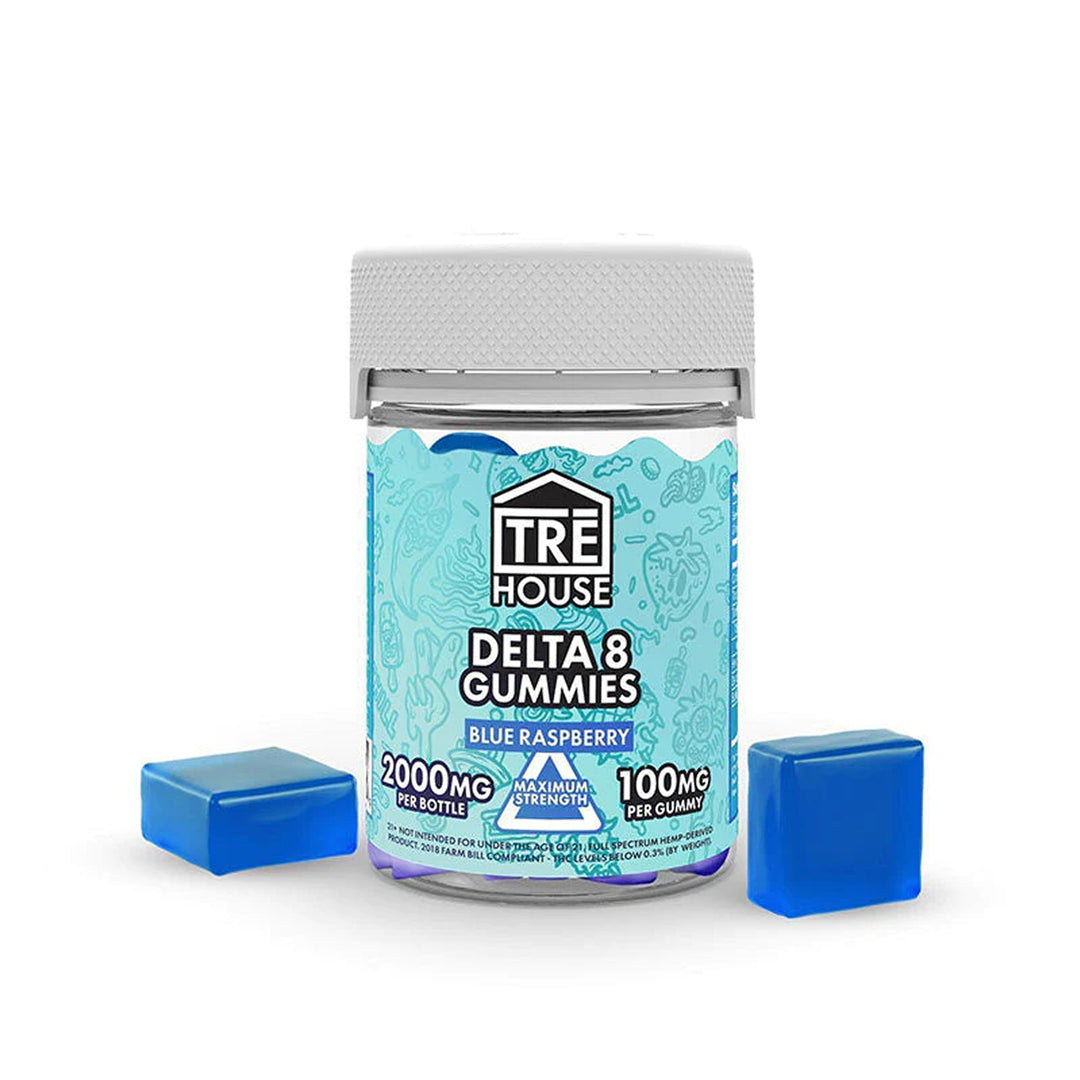 TRE House Delta-8 Gummies Maximum Strength
---
100mg Delta-8 THC per Gummy
Experience a new dimension of relaxation and well-being with our TRE House Delta-8 Gummies, crafted with Maximum Strength. These premium gummies pack a potent punch, with each offering a rich dose of 100mg Delta-8 THC. But that's not all! Every bottle ensures you receive an unmatched total of 2000mg Delta-8 THC, making it your go-to choice for consistent and robust effects.
Flavorful Indulgence: Dive into the delightful and refreshing taste of blue raspberry. Our gummies don't just deliver on strength, but also on taste!
Quality You Can Trust: We prioritize your safety and satisfaction. Our Delta-8 gummies are meticulously tested for quality, ensuring you get the pure, authentic experience every time.
Maximum Strength: With 100mg Delta-8 THC per gummy, these are designed for those who seek a stronger, more intensified effect. Whether you're looking to relax after a long day or need a more potent Delta-8 experience, our Maximum Strength gummies have got you covered.
Easy Dosage: Each bottle contains 2000mg of Delta-8 THC, allowing for easy dosage tracking and consistency.
Benefits of Delta-8 THC: Known for bridging the gap between CBD and its psychoactive counterpart, Delta-9 THC, Delta-8 offers a smoother, milder buzz that many users find more pleasant and less anxiety-inducing than the latter.
Directions for Use: Start with half a gummy if you're new to Delta-8 or are unsure about your tolerance level. Allow up to 2 hours for full effects to be felt before consuming more.
Unwind, indulge, and experience the maximum potency of Delta-8 with TRE House Gummies. Order now and savor the taste and strength of blue raspberry like never before!
Tapioca Syrup, Cane Sugar, Pectin, Sodium Citrate, Distilled Water, Natural Flavor, Natural Colors, Citric Acid Solution
Your order will ship the same day if ordered by 3PM (if in stock). If ordered after 3PM, your order will ship the following day. Please note that orders placed on national holidays and weekends will be sent the next business day that Ethereal Gold Dispensary is open.
Once your order has shipped (typically via USPS), you will receive tracking information by email.
Special Orders: Looking to order a case of a product for that sweet, sweet discount? While we may not have stock of it, it will ship to from us to you (typically) within a week. You will receive an email with 1 business day of your order with an estimated shipping date.
See our Special Order terms for more information.
Subscriptions: Subscription orders will ship the same day if in stock. If a subscription item is not in stock (such as a Special Order of a case of a product), it will ship to you once the item arrives to Ethereal Gold Dispensary (which may take up to a week).
Ethereal Gold Dispensary automatically will use discreet shipping on all orders at no additional cost to you. Learn more here.