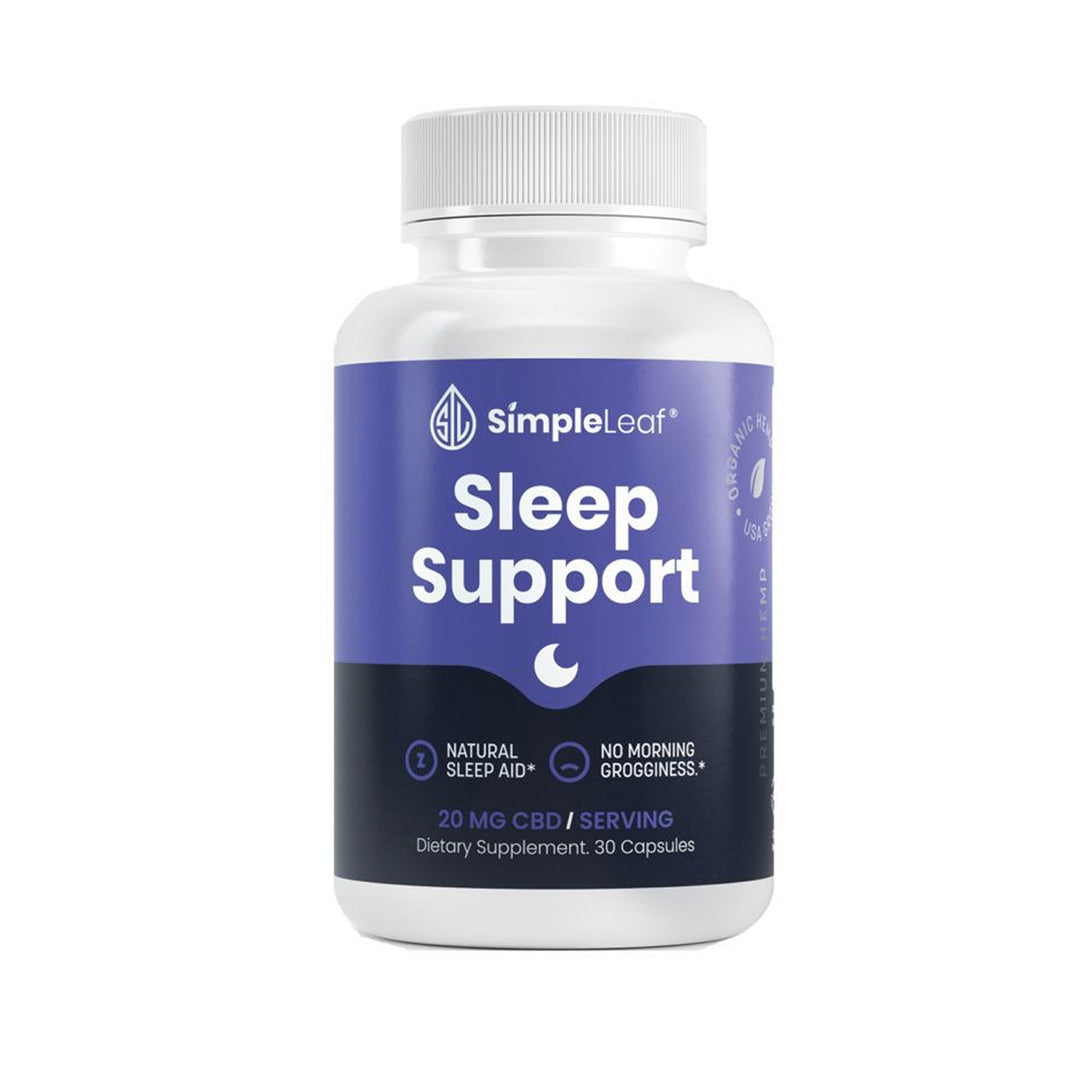 Simple Leaf CBD Sleep Support Capsules
---
20mg CBD per Capsule 

Dive into a world of peaceful nights and energized mornings with Simple Leaf CBD's Sleep Support Capsules. Expertly designed, this plant-based sleep enhancer brings the power of premium organic CBD together with a curated blend of soothing herbal extracts, ensuring you not only drift into sleep but also wake up feeling revitalized.
Key Highlights:
Premium CBD Blend: Each serving blesses you with 20mg of lab-tested organic CBD, sourced from nature's finest hemp plants.

Nature's Best Sleep Aids: Beyond just CBD, the unique formula blends in the time-tested, sleep-inducing properties of Chamomile and the stress-relieving benefits of Ashwagandha.

Enhanced with Melatonin: Known as the sleep hormone, Melatonin works harmoniously with CBD to regulate sleep-wake cycles.

Whole Night Support: These capsules don't just help you fall asleep. They help you stay asleep, letting your body and mind rejuvenate completely.

30 Capsules of Serenity: With 600mg CBD per bottle and 30 capsules, each dose promises consistent sleep support for a month.

Innovative & Unparalleled: Step aside, conventional sleep aids. Simple Leaf CBD's Sleep Support stands out, offering a sleep solution that's truly in a league of its own.
Trust in the plant-powered synergy of CBD, Melatonin, Ashwagandha, and Chamomile. Choose Simple Leaf CBD Sleep Support Capsules for nights of serene sleep and days of vibrant energy. Embrace the future of natural sleep support today.
If you do not see your batch number below, please contact us! Sleep Support Capsule
Hemp CBD, Sleep Blend (Hemp (oerial extract), Ashwagandha, Chamomile, Melatonin)
Your order will ship the same day if ordered by 3PM (if in stock). If ordered after 3PM, your order will ship the following day. Please note that orders placed on national holidays and weekends will be sent the next business day that Ethereal Gold Dispensary is open.
Once your order has shipped (typically via USPS), you will receive tracking information by email.
Special Orders: Looking to order a case of a product for that sweet, sweet discount? While we may not have stock of it, it will ship to from us to you (typically) within a week. You will receive an email with 1 business day of your order with an estimated shipping date.
See our Special Order terms for more information.
Subscriptions: Subscription orders will ship the same day if in stock. If a subscription item is not in stock (such as a Special Order of a case of a product), it will ship to you once the item arrives to Ethereal Gold Dispensary (which may take up to a week).
Ethereal Gold Dispensary automatically will use discreet shipping on all orders at no additional cost to you. Learn more here.