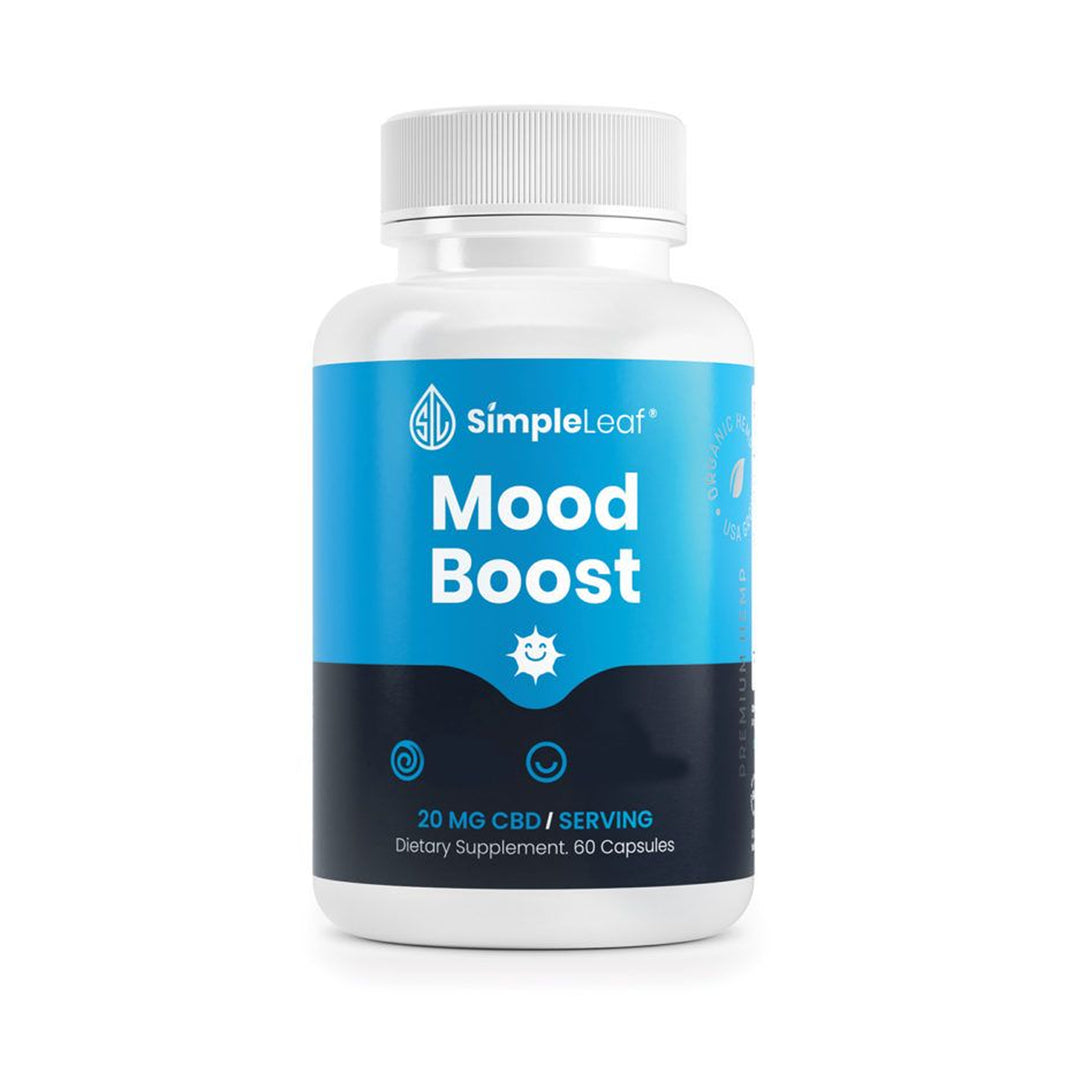 Simple Leaf CBD Mood Boost Capsule
---
20mg CBD per Capsule

Bid farewell to daily stresses and embrace a happier, calmer you with Simple Leaf CBD Mood Boost Capsules. Seamlessly combining the finest elements of nature and science, this supplement is expertly crafted to enhance mood and support a brighter disposition.
Key Features:
Powerful CBD Dosage: Infused with 20mg of lab-tested, organic CBD, this supplement lays the foundation for a more tranquil mind.

Optimal Herbal Blend: Featuring an exquisite mix of:

Rhodiola Rosea - Known to combat fatigue and support cognitive vitality.
Chamomile - Renowned for its soothing and calming properties.
Bacopa Monnieri - Celebrated for its potential to uplift mood and sharpen memory.
CDP-Choline - Aids brain function and mood regulation.

Vital Vitamins: With the inclusion of Vitamin B12, boost your energy, improve mood regulation, and support your nervous system.

Adaptogenic Excellence: Harness the power of adaptogens, nature's answer to stress, helping you maintain equilibrium even in turbulent times.

Healthy Approach: Beyond CBD, delve into an amalgamation of amino acids, herbs, and adaptogens curated for maximum mood-enhancing potential.

Natural Stress Relief: Designed to combat everyday pressures, keep your mindset positive, and maintain motivation, Simple Leaf's Mood Boost is your daily mood ally.
Simple Leaf's CBD Mood Boost Capsules are not just a product; they're balance and serenity with every capsule. Whether life's challenges are big or small, this unique blend ensures you face them with optimism and resilience. Step into brighter days and peaceful nights with Simple Leaf, your mood's best friend.
If you do not see your batch number below, please contact us! Mood Boost Capsule
Hemp CBD, Motivation & Memory Blend, Calming Support Blend
Your order will ship the same day if ordered by 3PM (if in stock). If ordered after 3PM, your order will ship the following day. Please note that orders placed on national holidays and weekends will be sent the next business day that Ethereal Gold Dispensary is open.
Once your order has shipped (typically via USPS), you will receive tracking information by email.
Special Orders: Looking to order a case of a product for that sweet, sweet discount? While we may not have stock of it, it will ship to from us to you (typically) within a week. You will receive an email with 1 business day of your order with an estimated shipping date.
See our Special Order terms for more information.
Subscriptions: Subscription orders will ship the same day if in stock. If a subscription item is not in stock (such as a Special Order of a case of a product), it will ship to you once the item arrives to Ethereal Gold Dispensary (which may take up to a week).
Ethereal Gold Dispensary automatically will use discreet shipping on all orders at no additional cost to you. Learn more here.