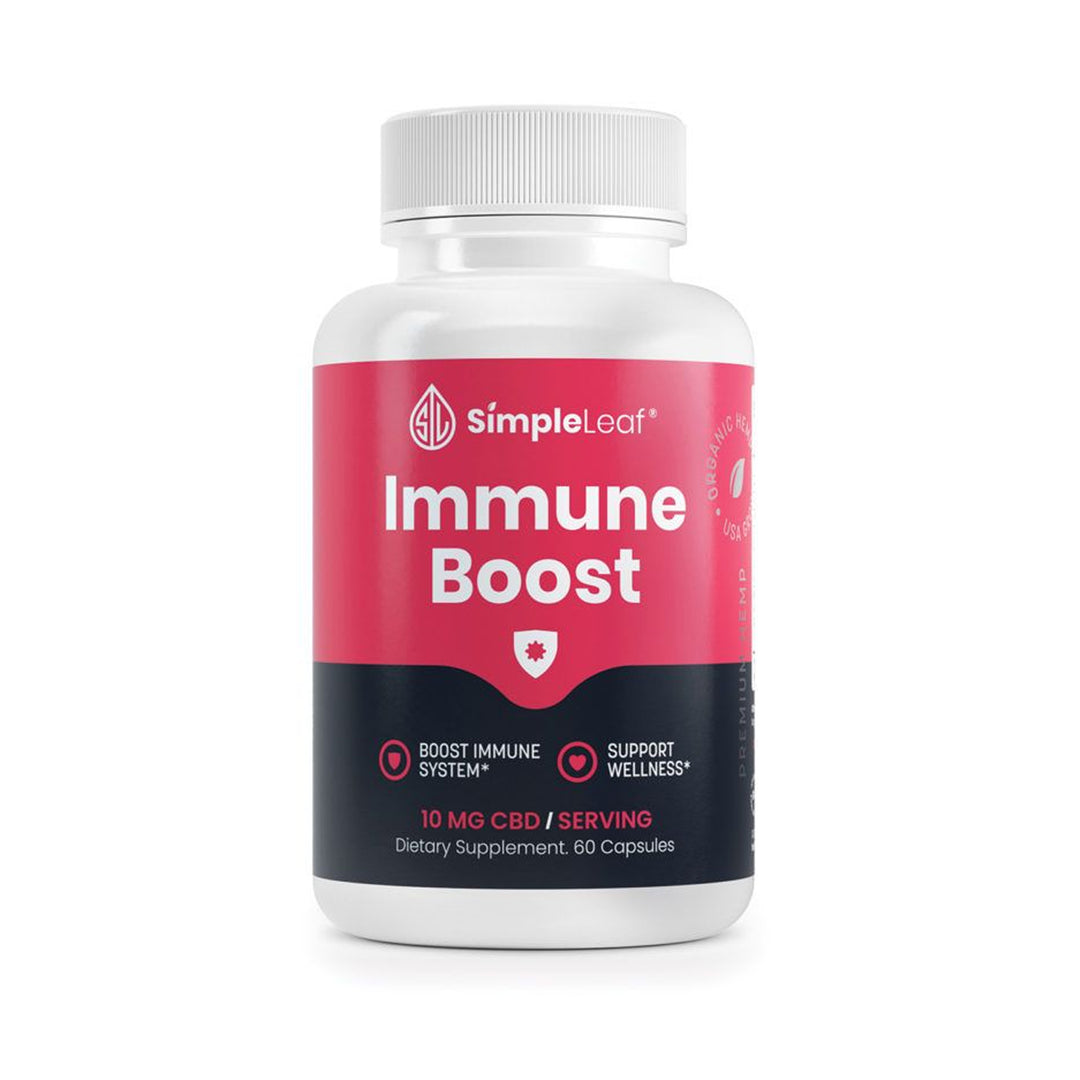 Simple Leaf CBD Immune Boost Capsule
---
10mg CBD per Capsule

Equip your body's defense mechanism with Simple Leaf CBD Immune Boost Capsules. A fusion of CBD and 11 essential botanicals creates a robust shield, ensuring you're fortified from within against external threats.
Key Features:
Potent CBD Dosage: Each capsule is infused with 10mg of lab-tested, organic CBD, forming the backbone of this immune-boosting powerhouse.

Comprehensive Botanical Blend: Beyond CBD, dive into a medley of health-enriching ingredients. Elderberry, known for its antiviral properties; Garlic, a natural immune enhancer; Beetroot, a vitamin and mineral-rich booster; and Cordyceps, the immunity-promoting mushroom, all converge in one capsule.

Essential Vitamins & Minerals: Turbocharge your immune response with the likes of Zinc, Vitamin B12, and Vitamin D3 – crucial nutrients that play a pivotal role in immune health.

Pure & Potent Formula: With ingredients like real elderberry, garlic, and acai berries, you're assured of a capsule that's as close to nature as possible. Plus, our Immune Boost capsules are 100% THC-free.

Generous Serving: With 60 capsules per bottle, each brimming with a precise 10mg dose of CBD, your immune system is consistently supported month-long.
With Simple Leaf CBD Immune Boost Capsules, you're not just taking a supplement; you're embracing a 360-degree approach to immune health. Featuring a curated blend of herbs, vitamins, and CBD, it's your daily ticket to a resilient, fortified system. Protect, fortify, and thrive with Simple Leaf, the paragon of natural wellness.
If you do not see your batch number below, please contact us! Immune Boost Capsule
Hemp CBD, Vitamin B12, Vitamin D3, Zinc Oxide, Immune Booster, Relief X Bioavailability Complex
Your order will ship the same day if ordered by 3PM (if in stock). If ordered after 3PM, your order will ship the following day. Please note that orders placed on national holidays and weekends will be sent the next business day that Ethereal Gold Dispensary is open.
Once your order has shipped (typically via USPS), you will receive tracking information by email.
Special Orders: Looking to order a case of a product for that sweet, sweet discount? While we may not have stock of it, it will ship to from us to you (typically) within a week. You will receive an email with 1 business day of your order with an estimated shipping date.
See our Special Order terms for more information.
Subscriptions: Subscription orders will ship the same day if in stock. If a subscription item is not in stock (such as a Special Order of a case of a product), it will ship to you once the item arrives to Ethereal Gold Dispensary (which may take up to a week).
Ethereal Gold Dispensary automatically will use discreet shipping on all orders at no additional cost to you. Learn more here.