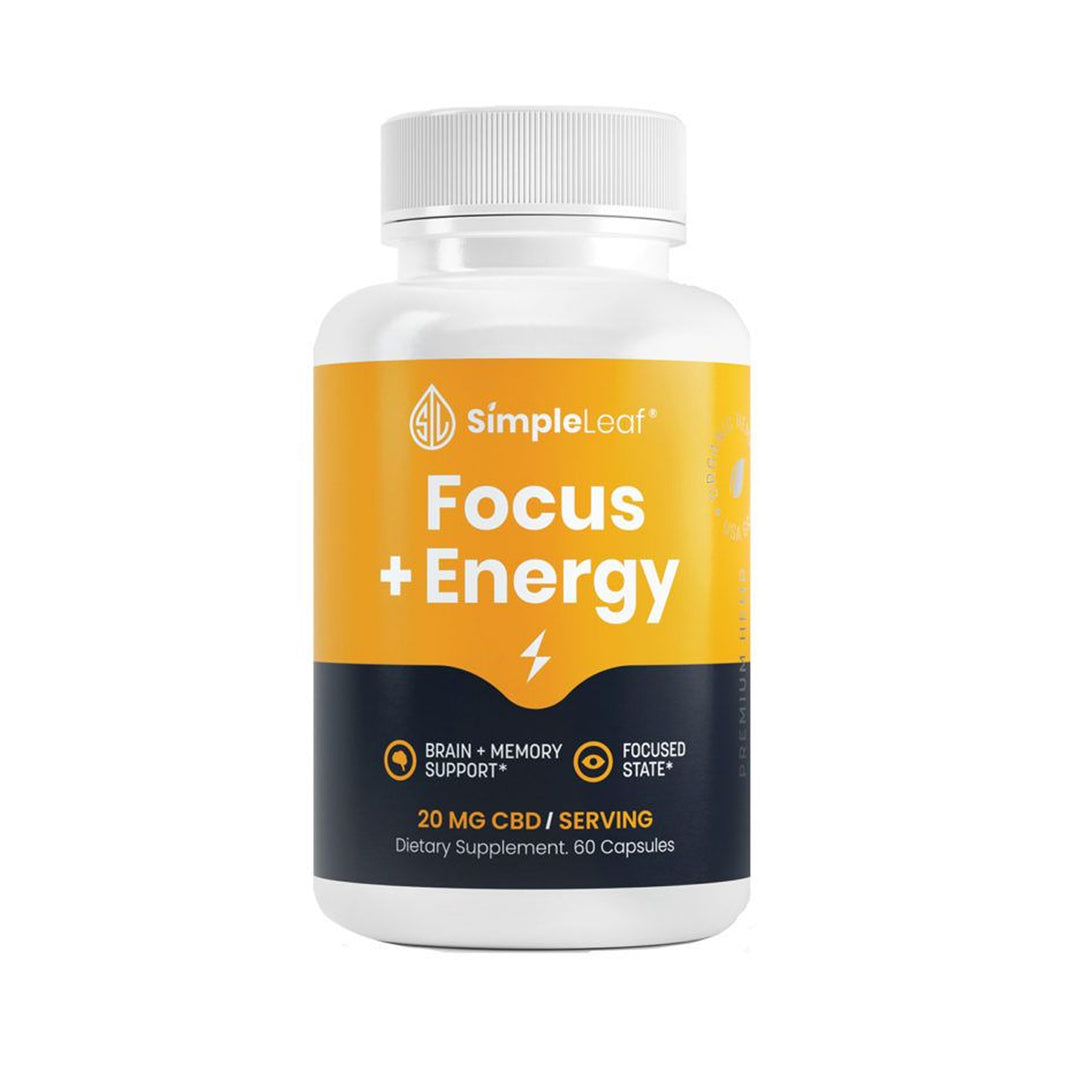 Simple Leaf CBD Focus + Energy Capsules
---
20mg CBD per Capsule

Awaken the genius in you with Simple Leaf CBD Focus + Energy Capsules. Crafted for those seeking clarity, concentration, and zest, this formula delivers a unique blend of CBD and cognitive-enhancing ingredients that work harmoniously to elevate your mental performance.
Key Features:
Optimal CBD Dosage: Each capsule envelops you in 20mg of lab-tested, organic CBD. Derived from nature's finest, it's your foundation for a sharper mind.

Enhanced Cognitive Function: Dive into tasks with unparalleled clarity. Our unique blend, featuring Artichoke Extract, has been crafted to amplify your focus, boost your brain function, and enhance mental stamina.

Synergistic Ingredients: Beyond CBD, experience the power of Forskolin, known for its health benefits, and 5-HTP, a precursor to serotonin production. Together, these ingredients create a balanced synergy for peak mental acuity.

Holistic Wellness: With Artichoke Extract known for its liver-protecting properties, and Forskolin which can assist with respiratory issues, our capsules offer benefits that extend beyond just focus and energy.

Adaptable & Versatile: Pair with morning coffee for an energized start or after lunch to fend off the mid-day slump. Tailored to seamlessly fit any part of your day.
Simple Leaf's Focus + Energy CBD Capsules are more than just a nootropic supplement; they're a ticket to a day filled with purpose, energy, and clarity. Pioneering a new horizon in cognitive wellness, experience a brain boost like no other. Step into a clearer, more focused world with Simple Leaf. Your brain, supercharged.
If you do not see your batch number below, please contact us! Focus + Energy Capsules
Hemp CBD, Brain Support System (Choline Power, 5-HTP, Alpha GPC), Focus Proprietary Blend (Acetyl-L Caritine, Forskolin, Artichoke Extract)
Your order will ship the same day if ordered by 3PM (if in stock). If ordered after 3PM, your order will ship the following day. Please note that orders placed on national holidays and weekends will be sent the next business day that Ethereal Gold Dispensary is open.
Once your order has shipped (typically via USPS), you will receive tracking information by email.
Special Orders: Looking to order a case of a product for that sweet, sweet discount? While we may not have stock of it, it will ship to from us to you (typically) within a week. You will receive an email with 1 business day of your order with an estimated shipping date.
See our Special Order terms for more information.
Subscriptions: Subscription orders will ship the same day if in stock. If a subscription item is not in stock (such as a Special Order of a case of a product), it will ship to you once the item arrives to Ethereal Gold Dispensary (which may take up to a week).
Ethereal Gold Dispensary automatically will use discreet shipping on all orders at no additional cost to you. Learn more here.