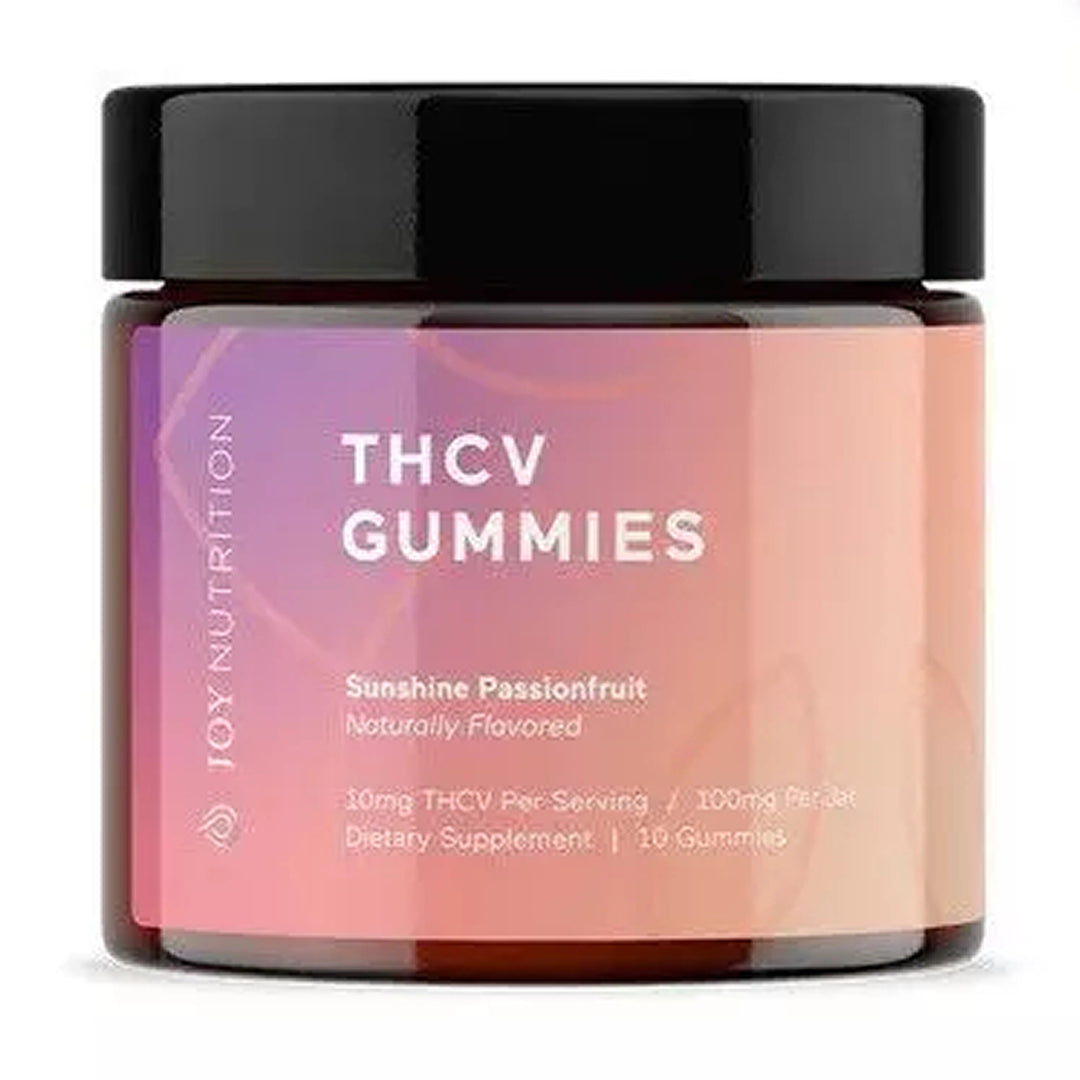 Joy Nutrition THCV Gummies
---
10mg THCV per Gummy / 10 Gummies per Bottle
Introducing Joy Nutrition THCV Gummies in Sunshine Passionfruit flavor! These gummies are the perfect way to enjoy the benefits of THCV in a delicious and convenient form. Each 10 gummy container contains 10mg of THCV per gummy, making it easy to control your dosage. The passionfruit flavor adds a burst of sunshine to your day, making these gummies the perfect treat for any time of day.
THCV is known to suppress appetite however research is still needed to fully understand the effects of THCV. 
Pricing Discounts:
1 Container – $3.95 per gummy

3 Container 

– $3.56 per gummy
Organic Cane Sugar, Organic Tapioca Syrup, Purified Water, Pectin, Organic Citric Acid, Tetrahydrocannabivarin (THCV) Isolate, Organic Passion Fruit Flavor, Medium Chain Triglyceride Oil, Organic Red Color, Organic Sunflower Lecithin, Natural Bitterness Masking Flavor. </br></br>

<b>Contains:</b> Tree Nuts (Coconut).
Your order will ship the same day if ordered by 3PM (if in stock). If ordered after 3PM, your order will ship the following day. Please note that orders placed on national holidays and weekends will be sent the next business day that Ethereal Gold Dispensary is open.
Once your order has shipped (typically via USPS), you will receive tracking information by email.
Special Orders: Looking to order a case of a product for that sweet, sweet discount? While we may not have stock of it, it will ship to from us to you (typically) within a week. You will receive an email with 1 business day of your order with an estimated shipping date.
See our Special Order terms for more information.
Subscriptions: Subscription orders will ship the same day if in stock. If a subscription item is not in stock (such as a Special Order of a case of a product), it will ship to you once the item arrives to Ethereal Gold Dispensary (which may take up to a week).
Ethereal Gold Dispensary automatically will use discreet shipping on all orders at no additional cost to you. Learn more here.