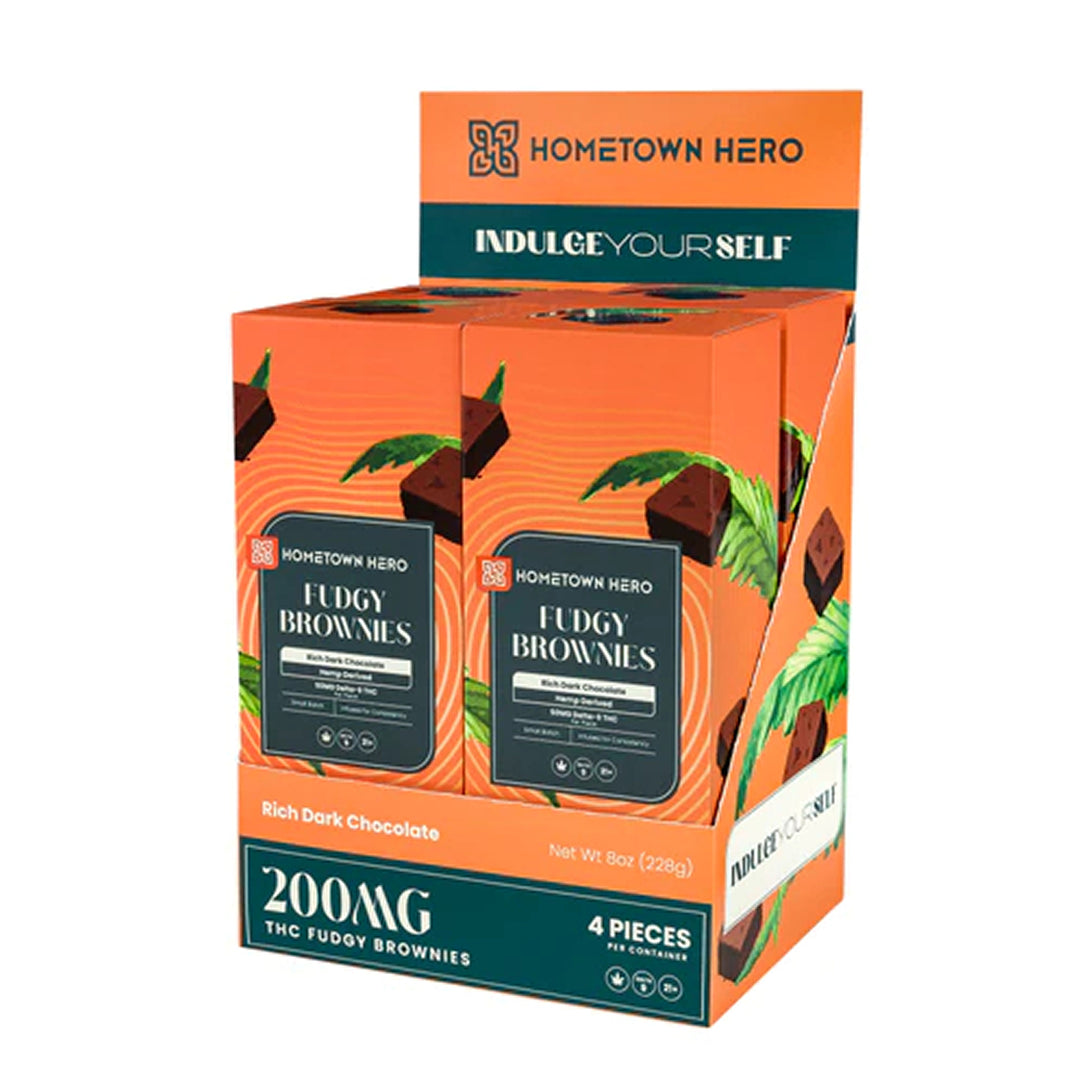 Hometown Hero Fudgy Brownies
---
200mg Delta-9 THC per Box

Treat yourself to the decadent, rich dark chocolate flavor of Hometown Hero Fudgy Brownies, each infused with 50mg of THC. Made fresh in small batches, these brownies offer not just a luxurious taste but also a consistently enjoyable experience. Perfect for chocolate lovers and cannabis enthusiasts alike.
Key Features
Potent THC Infusion: Each brownie contains a substantial 50mg of THC for a deeply satisfying experience.
Rich Dark Chocolate Flavor: Indulge in the luxurious depth of dark chocolate, a treat for any chocolate aficionado.
Fresh, Small-Batch Quality: Ensuring the highest quality and freshest taste with every box.
Consistent Infusion: Each brownie is infused evenly for a reliable and enjoyable experience.
Perfect Quantity: With 4 brownies per box, it's ideal for personal enjoyment or sharing with friends.
Benefits
Premium Cannabis Experience: High THC content for those seeking a potent and enjoyable edible experience.
Gourmet Taste: Artisanal quality that elevates the traditional brownie to a gourmet level.
Convenient Consumption: Pre-portioned, easy to consume, and perfect for on-the-go or at-home relaxation.
Perfect as an evening treat to unwind, a weekend indulgence, or a special dessert. Enjoy Hometown Hero fudgy brownies responsibly and savor the rich, chocolatey goodness.
Your order will ship the same day if ordered by 3PM (if in stock). If ordered after 3PM, your order will ship the following day. Please note that orders placed on national holidays and weekends will be sent the next business day that Ethereal Gold Dispensary is open.
Once your order has shipped (typically via USPS), you will receive tracking information by email.
Special Orders: Looking to order a case of a product for that sweet, sweet discount? While we may not have stock of it, it will ship to from us to you (typically) within a week. You will receive an email with 1 business day of your order with an estimated shipping date.
See our Special Order terms for more information.
Subscriptions: Subscription orders will ship the same day if in stock. If a subscription item is not in stock (such as a Special Order of a case of a product), it will ship to you once the item arrives to Ethereal Gold Dispensary (which may take up to a week).
Ethereal Gold Dispensary automatically will use discreet shipping on all orders at no additional cost to you. Learn more here.