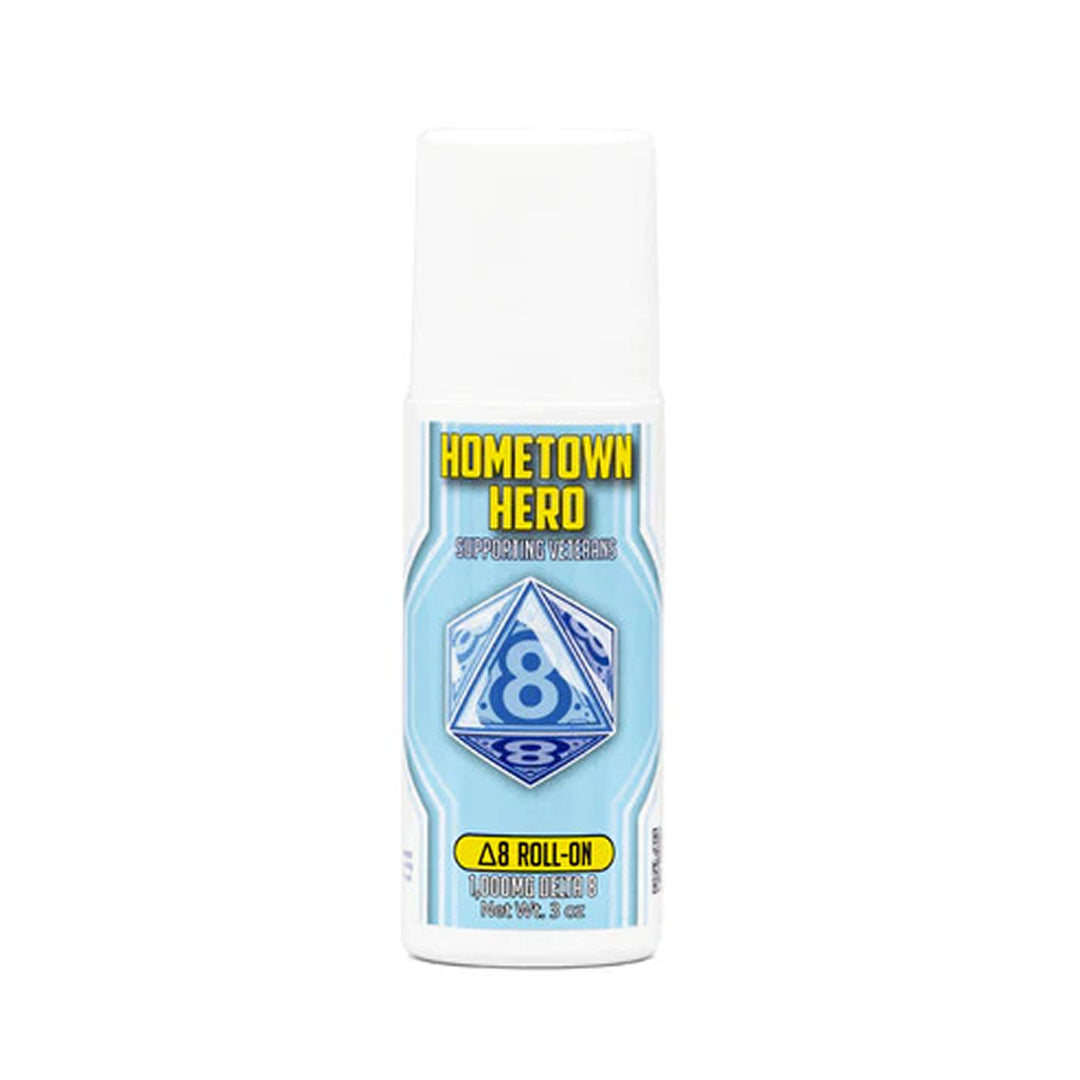 Hometown Hero Delta-8 Roll-On
THIS PRODUCT IS NO LONGER AVAILABLE AND HAS BEEN DISCONTINUED. It has bene replaced by the more effective and potent Orca Max Strength Recovery Roll-On.
1000mg of Delta-8 THC 
The Hometown Hero Delta-8 Roll-On is made with high-quality ingredients and is designed to be easy to use. Simply roll it on the area of your body that you want to experience the effects of Delta-8 THC, and let the formula do the rest. If you are looking for a quick and easy way to experience the pain relieving effects of Delta-8 THC. The Hometown Hero Delta-8 Roll-On is the perfect choice for you.
---
10% Menthol, Argan Oil, Apricot Kernal Oil, Camphor, Tea Tree, 1000mg D8 Distillate, Dimethyl Sulfoxide, Eucalyptus, Botanical Terpene Blend, Ethyl Alcohol, Juniper, Rosemary, Frankincense, Lavender, Lawang, Wintergreen, Peppermint, Phenoxyethanol, Caprylyl Glycol, Sorbic Acid
Your order will ship the same day if ordered by 3PM (if in stock). If ordered after 3PM, your order will ship the following day. Please note that orders placed on national holidays and weekends will be sent the next business day that Ethereal Gold Dispensary is open.
Once your order has shipped (typically via USPS), you will receive tracking information by email.
Special Orders: Looking to order a case of a product for that sweet, sweet discount? While we may not have stock of it, it will ship to from us to you (typically) within a week. You will receive an email with 1 business day of your order with an estimated shipping date.
See our Special Order terms for more information.
Subscriptions: Subscription orders will ship the same day if in stock. If a subscription item is not in stock (such as a Special Order of a case of a product), it will ship to you once the item arrives to Ethereal Gold Dispensary (which may take up to a week).
Ethereal Gold Dispensary automatically will use discreet shipping on all orders at no additional cost to you. Learn more here.