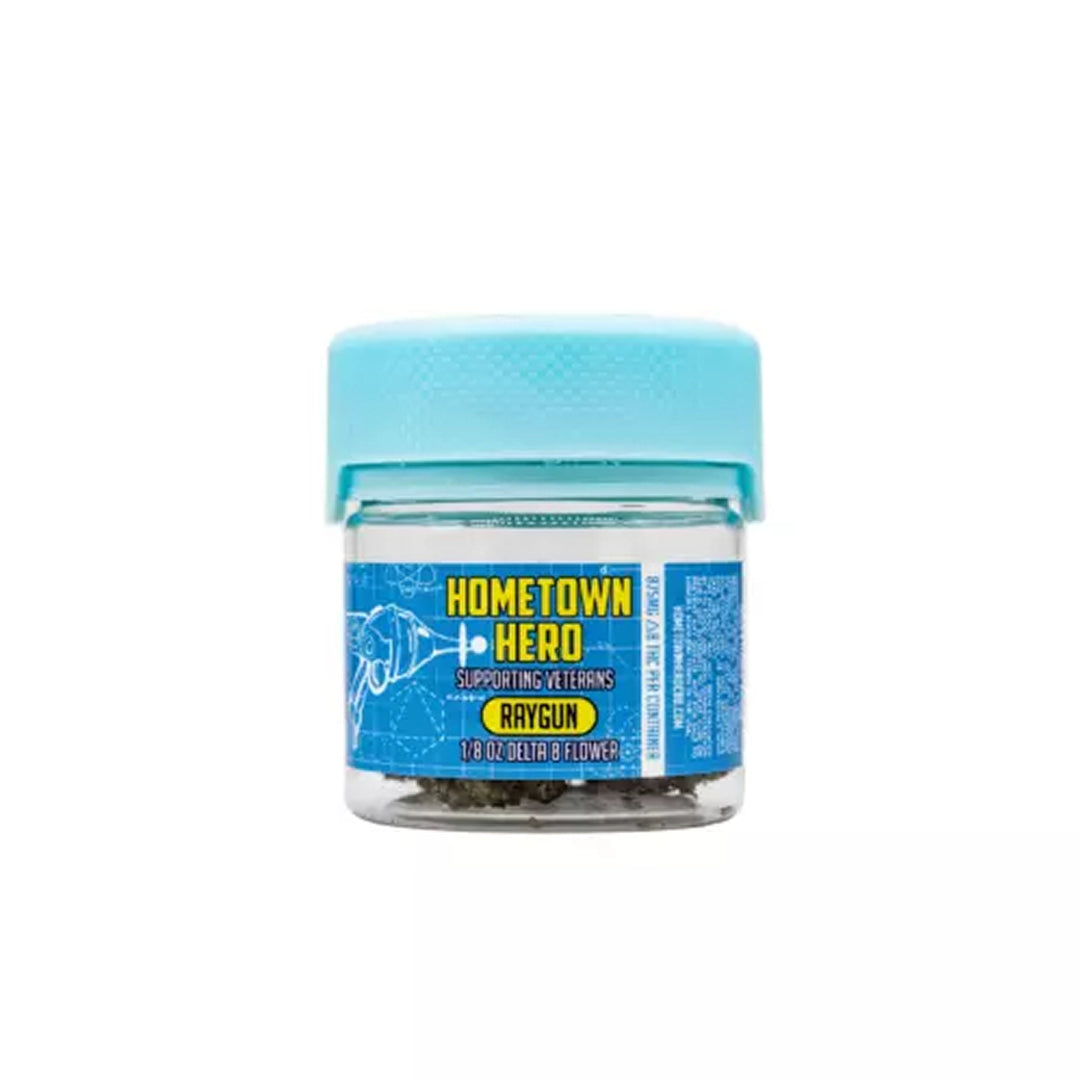 Hometown Hero Delta-8 Flower - Raygun
---
Delta-8 Flower Raygun Strain
Hometown Hero Delta-8 Flower - Raygun strain is a top-quality, premium flower that is sure to provide you with a powerful and uplifting experience. This premium Delta-8 THC strain is available in either a convenient 1/8th ounce container or in bulk by the .25lb for those who love to stock up. The Raygun strain is known for its potent effects that can help you relax and unwind after a long day.
Flavor Profile
The Raygun Delta-8 Strain is known for its distinct and flavorful terpene profile. It is said to have a sweet and fruity aroma with hints of berries and tropical fruits, giving it a pleasing and enjoyable scent. The flavor is described as smooth and well-balanced, with a sweet and fruity taste that lingers on the palate. The combination of its unique aroma and flavor make the Raygun Delta-8 Strain a popular choice among those who enjoy both the effects and taste of Delta-8 THC.
Pricing Discounts:
1 Container  – $9.86 per gram
4 Containers - $9.37 per gram
12 Containers - $8.87 per gram
CBD Flower, Hemp Derived Delta-8 Distillate
Your order will ship the same day if ordered by 3PM (if in stock). If ordered after 3PM, your order will ship the following day. Please note that orders placed on national holidays and weekends will be sent the next business day that Ethereal Gold Dispensary is open.
Once your order has shipped (typically via USPS), you will receive tracking information by email.
Special Orders: Looking to order a case of a product for that sweet, sweet discount? While we may not have stock of it, it will ship to from us to you (typically) within a week. You will receive an email with 1 business day of your order with an estimated shipping date.
See our Special Order terms for more information.
Subscriptions: Subscription orders will ship the same day if in stock. If a subscription item is not in stock (such as a Special Order of a case of a product), it will ship to you once the item arrives to Ethereal Gold Dispensary (which may take up to a week).
Ethereal Gold Dispensary automatically will use discreet shipping on all orders at no additional cost to you. Learn more here.