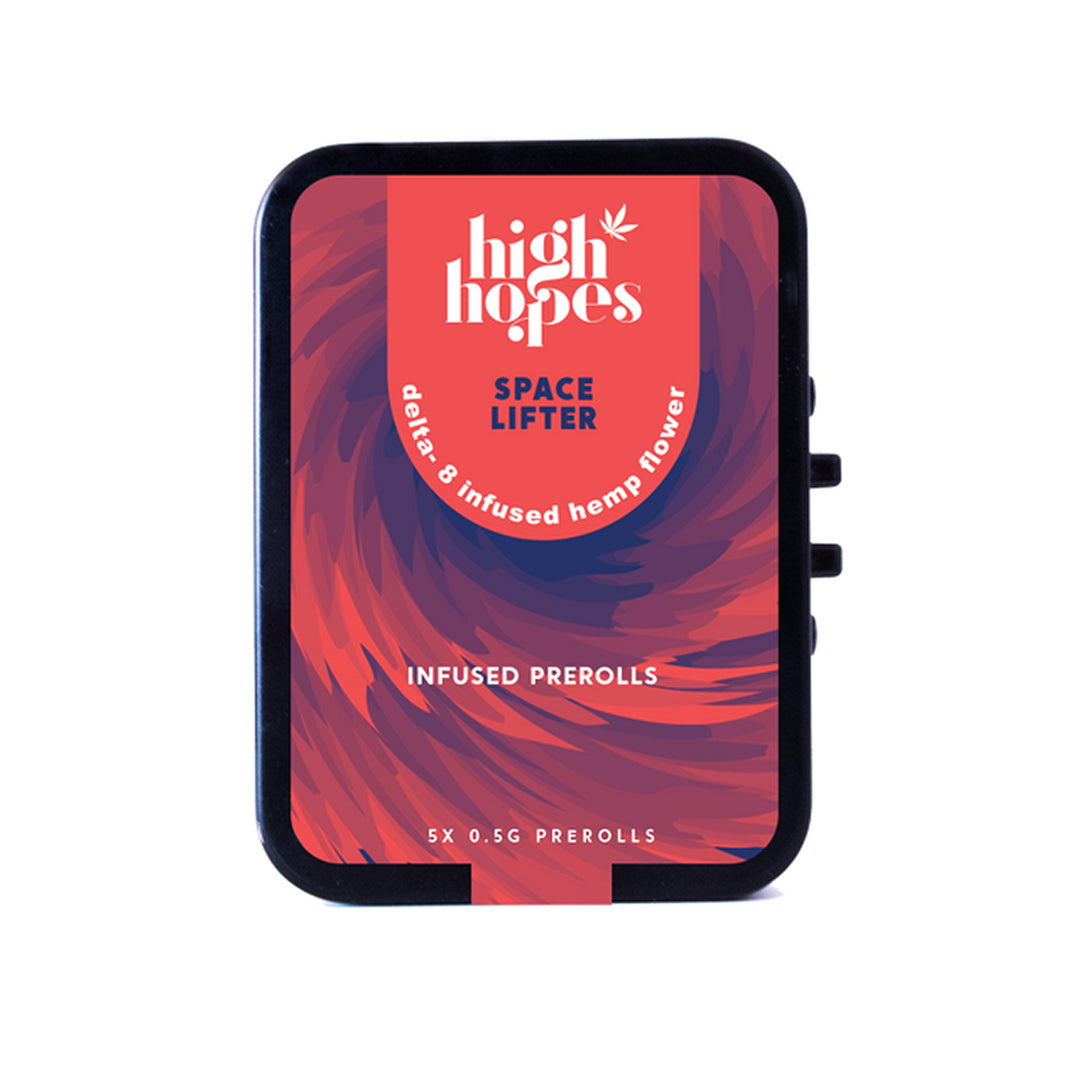 High Hopes Delta-8 Pre-Rolls
This product has been discontinued by High Hopes and is no longer available. You may enjoy these other flower products here.
High Hopes Delta-8 Pre-Rolls offer a convenient and easy way to enjoy the benefits of Delta-8 THC. Made with premium quality strains, these pre-rolls are currently available in the popular strain Space Lifter. Perfect for those on-the-go or those who prefer a quick and easy option, these pre-rolls come in two quantities: 5 pre-rolls or 50 pre-rolls. Choose the right option for you and enjoy a relaxing and uplifting experience with High Hopes Delta-8 Pre-Rolls
About these Strains:
Space Lifter: Space Lifter 

offers a unique and delightful taste profile. With notes of sweet and floral flavors, this strain provides a satisfying and enjoyable taste experience. The taste is balanced and smooth, offering a hint of sweetness that lingers on the palate.

 Known for its ability to provide a relaxing and energizing experience.
Pricing Discounts:
5 Pre-Rolls - $3.99 per Pre-Roll
50 Pre-Rolls - $3.59 per Pre-Roll
---
CBD Flower, Hemp Derived Delta-8 Distillate
CAUTION: LAB TEST IS PENDING
Your order will ship the same day if ordered by 3PM (if in stock). If ordered after 3PM, your order will ship the following day. Please note that orders placed on national holidays and weekends will be sent the next business day that Ethereal Gold Dispensary is open.
Once your order has shipped (typically via USPS), you will receive tracking information by email.
Special Orders: Looking to order a case of a product for that sweet, sweet discount? While we may not have stock of it, it will ship to from us to you (typically) within a week. You will receive an email with 1 business day of your order with an estimated shipping date.
See our Special Order terms for more information.
Subscriptions: Subscription orders will ship the same day if in stock. If a subscription item is not in stock (such as a Special Order of a case of a product), it will ship to you once the item arrives to Ethereal Gold Dispensary (which may take up to a week).
Ethereal Gold Dispensary automatically will use discreet shipping on all orders at no additional cost to you. Learn more here.