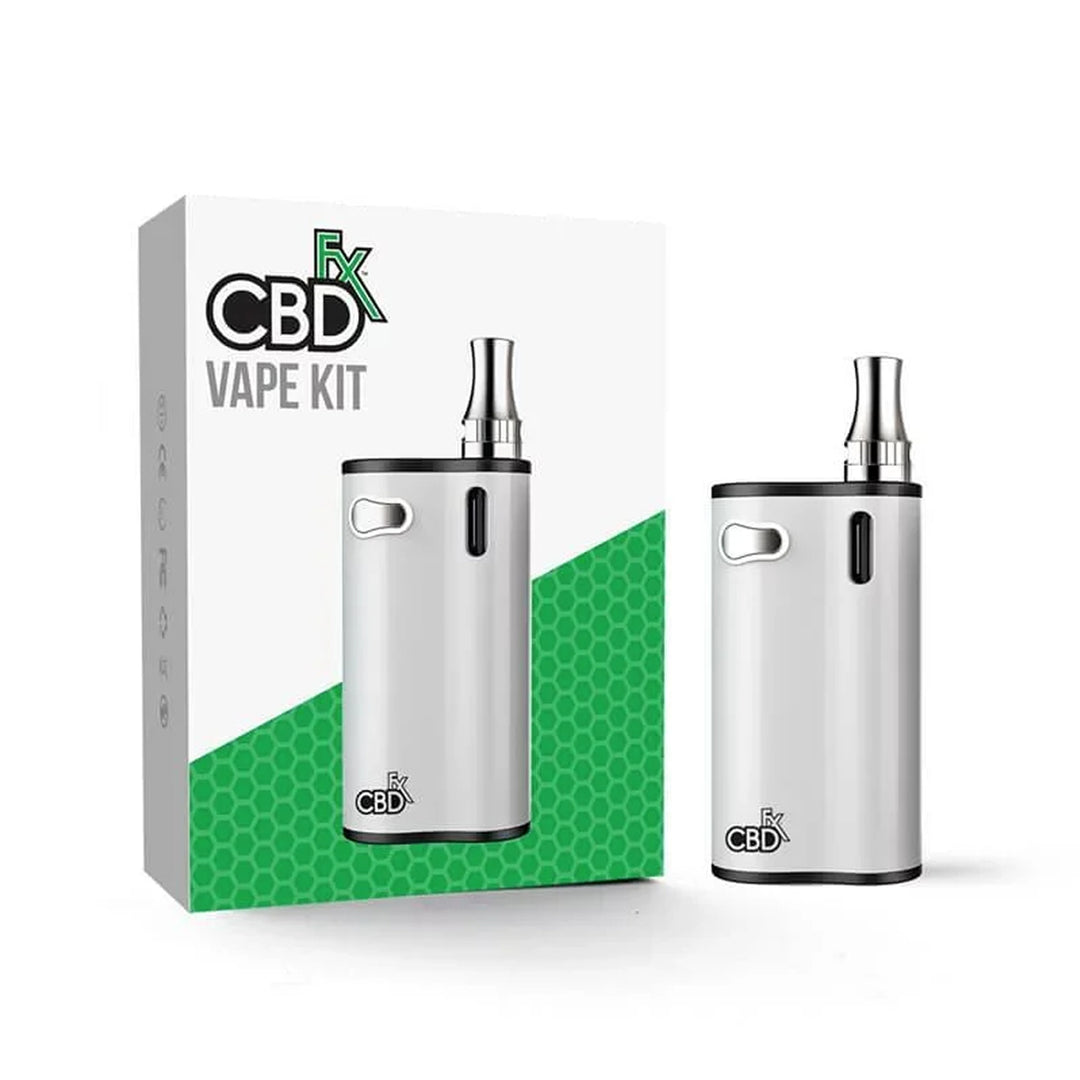 CBDfx Vape Kit
---
Unleash the power of hemp-derived cannabinoids with the CBDfx Vape Kit! Whether you're new to vaping or an experienced aficionado, this state-of-the-art kit is specifically crafted to provide an unrivaled experience with your favorite CBD oils and e-liquids. Explore a unique combination of exceptional design, high-performance, and unmatched quality that sets the CBDfx Vape Kit apart from the rest.
Key Features:
Compact and Portable Design: CBDfx Vape Kit boasts a sleek, compact design making it incredibly portable. It's perfect for those on-the-go moments, fitting effortlessly into your pocket or bag.

High-Quality Materials: Crafted from high-grade materials, the CBDfx Vape Kit ensures durability and longevity. Its stainless-steel exterior is not only visually appealing but also resistant to wear and tear.

Ceramic Coil Technology: Utilizing cutting-edge ceramic coil technology, the kit delivers an even heat distribution for a smoother and cleaner vaping experience, ensuring that you get the most out of your CBD.

Adjustable Settings: Customize your vaping experience with the CBDfx Vape Kit's adjustable airflow and temperature settings. Cater to your preferences by fine-tuning the vapor production and intensity.

Efficient Battery Life: The 1000mAh lithium-ion battery guarantees a prolonged and efficient battery life, making sure your vaping sessions are uninterrupted.

Compatibility with CBD Oils and E-liquids: Designed for CBD use, this vape kit is compatible with a wide range of CBD oils and e-liquids. Experience the diversity of flavors and concentrations.

Easy to Use: Its intuitive design and single-button operation make the CBDfx Vape Kit user-friendly, perfect for both vaping beginners and seasoned veterans.

Whisper Quiet Operation: Vape discreetly with the whisper-quiet operation of the CBDfx Vape Kit. Enjoy your CBD without drawing attention.
Your order will ship the same day if ordered by 3PM (if in stock). If ordered after 3PM, your order will ship the following day. Please note that orders placed on national holidays and weekends will be sent the next business day that Ethereal Gold Dispensary is open.
Once your order has shipped (typically via USPS), you will receive tracking information by email.
Special Orders: Looking to order a case of a product for that sweet, sweet discount? While we may not have stock of it, it will ship to from us to you (typically) within a week. You will receive an email with 1 business day of your order with an estimated shipping date.
See our Special Order terms for more information.
Subscriptions: Subscription orders will ship the same day if in stock. If a subscription item is not in stock (such as a Special Order of a case of a product), it will ship to you once the item arrives to Ethereal Gold Dispensary (which may take up to a week).
Ethereal Gold Dispensary automatically will use discreet shipping on all orders at no additional cost to you. Learn more here.