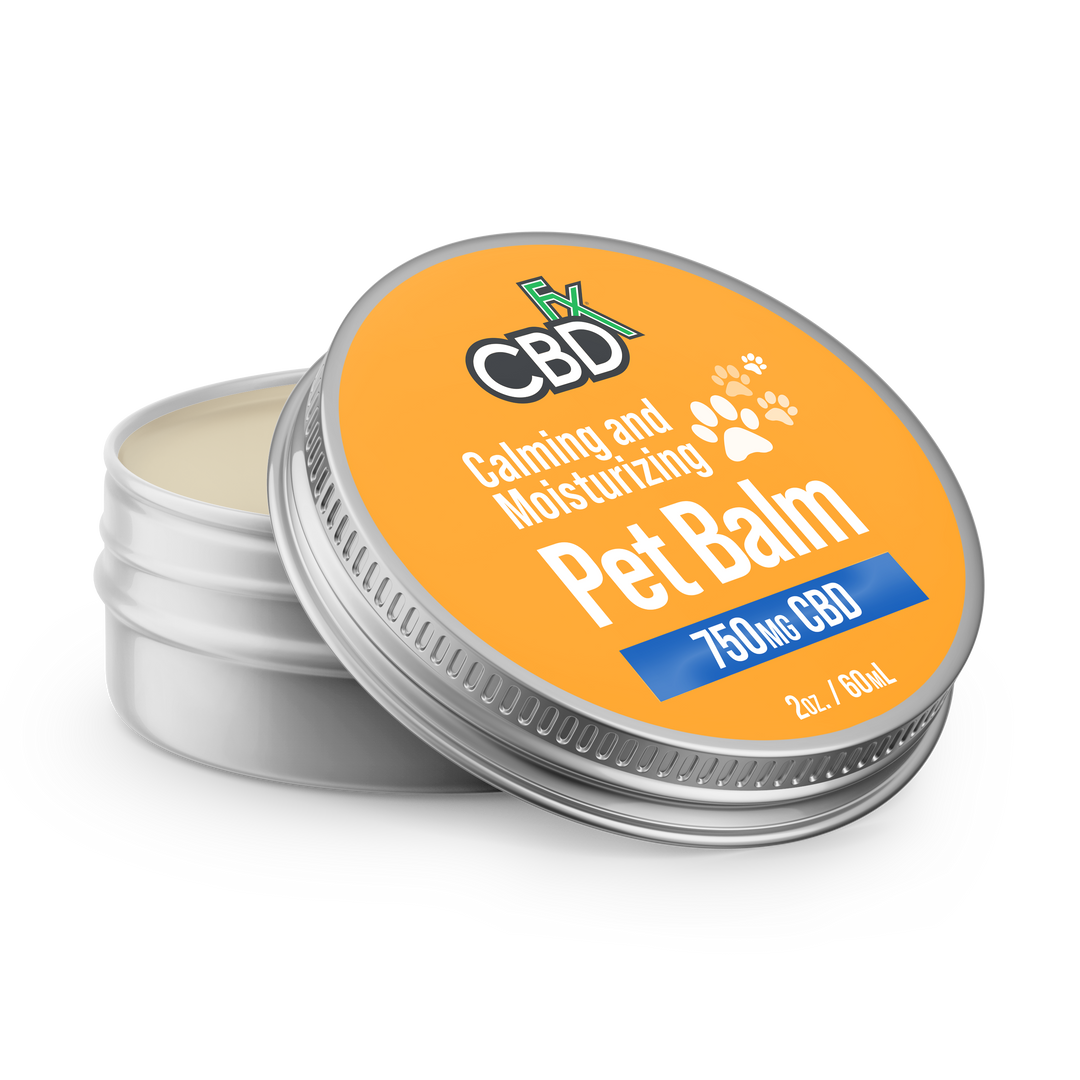 CBDfx Pet Balm
THIS PRODUCT IS NO LONGER AVAILABLE AND HAS BEEN DISCONTINUED. You may enjoy other CBD pet products here.
750mg of CBD per Balm
CBDfx Pet Balm, the ultimate solution for your furry friend's skin woes! This Pet Balm is available in a  Calming and Moisturizing, each containing 750mg of broad spectrum CBD, Alaskan salmon oil, shea butter, and a blend of soothing essential oils.
CBDfx Pet Balm is made with organic ingredients that have been carefully selected to provide your pet with the best possible care. We understand that your pet's skin can be sensitive, which is why we have created a product that is gentle, safe, and effective.
The CBDfx Pet Balm is easy to use and can be applied directly to your pet's skin or fur. Simply massage the balm onto the affected area, and your pet will feel the soothing effects in no time. Whether your pet suffers from dry, itchy, or irritated skin, or you simply want to provide them with a relaxing and moisturizing experience, our Pet Balm is the perfect solution.
Pricing Discounts:
1 Container – ~$0.04 per mg of CBD
3 Containers - $0.036 per mg of CBD
---
Cannabis Sative (Hemp) Seed Oil, Cocos Nucifera (Coconut) Oil, Euphorbia Cerifera (Candelilla) Wax, Odorless Alaskan Salmon Oil, Butyrospermum Parkii (Shea Butter), Broad Spectrum Hemp Extract, Lavandula Angustifolia (Lavender) Oil, Rosmarinus Officinalis (Rosemary) Extract, Styrax Benzoin (Benzoin) Extract, Anthemis Nobilis (Roman Chamomile) Essential Oil
Your order will ship the same day if ordered by 3PM (if in stock). If ordered after 3PM, your order will ship the following day. Please note that orders placed on national holidays and weekends will be sent the next business day that Ethereal Gold Dispensary is open.
Once your order has shipped (typically via USPS), you will receive tracking information by email.
Special Orders: Looking to order a case of a product for that sweet, sweet discount? While we may not have stock of it, it will ship to from us to you (typically) within a week. You will receive an email with 1 business day of your order with an estimated shipping date.
See our Special Order terms for more information.
Subscriptions: Subscription orders will ship the same day if in stock. If a subscription item is not in stock (such as a Special Order of a case of a product), it will ship to you once the item arrives to Ethereal Gold Dispensary (which may take up to a week).
Ethereal Gold Dispensary automatically will use discreet shipping on all orders at no additional cost to you. Learn more here.