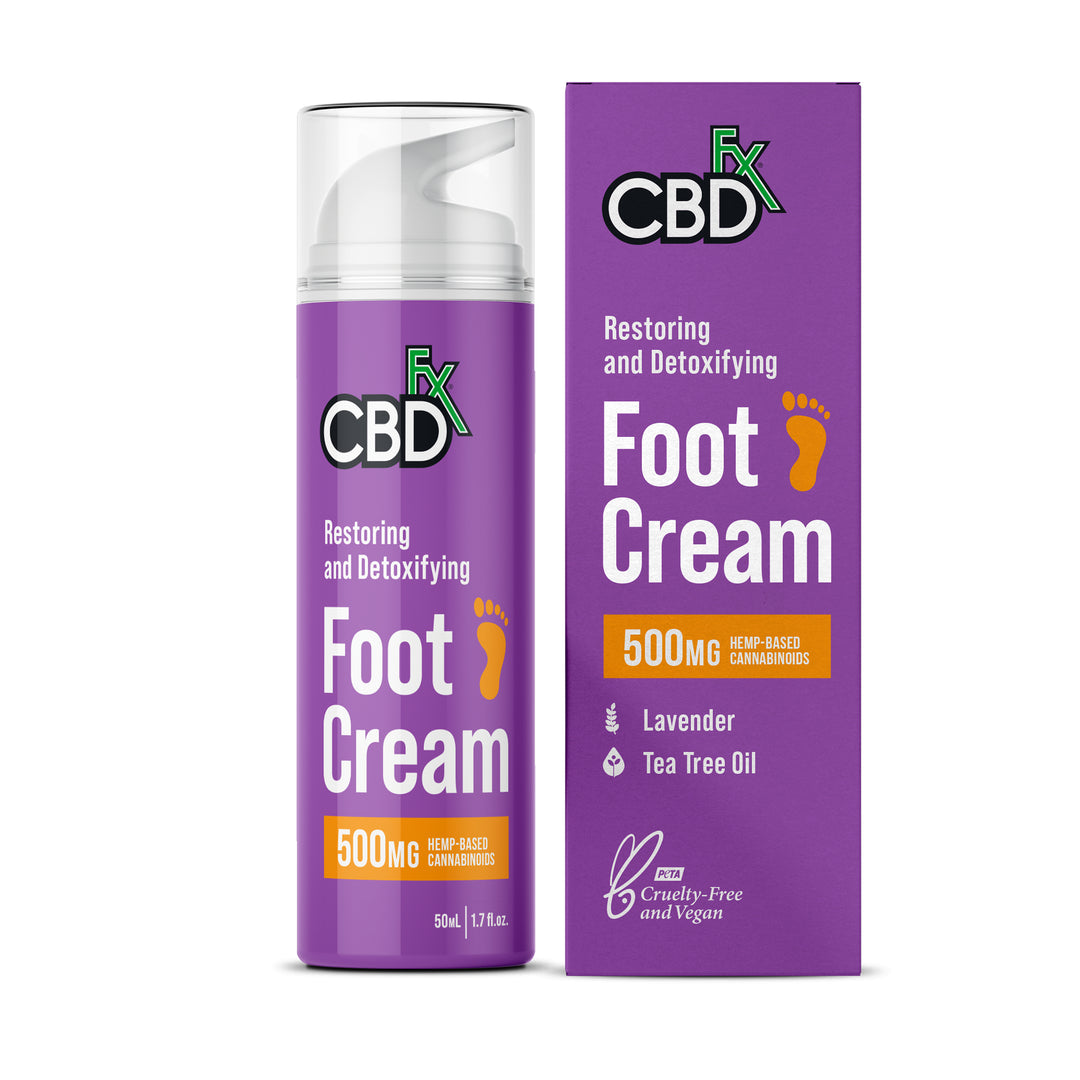 CBDfx Foot Cream
THIS PRODUCT IS NO LONGER AVAILABLE AND HAS BEEN DISCONTINUED. You may enjoy other CBD topicals here.
CBDfx Foot Cream, a premium foot cream infused with 500mg of high-quality, organic CBD to help soothe and restore your tired, achy feet. Our foot cream is available in one formula, Lavender Restoring and Detoxifying, with a delightful scent that is perfect for daily use.
Our Lavender Restoring and Detoxifying foot cream is carefully crafted to provide the ultimate pampering experience for your feet. Infused with soothing lavender oil, this foot cream helps to calm and relax your senses while working to restore moisture and hydration to dry, cracked skin. The detoxifying properties of this formula help to remove toxins and impurities, leaving your feet feeling fresh and revitalized.
Our foot cream is formulated with a blend of natural ingredients that are specifically designed to nourish and rejuvenate your feet. The creamy, non-greasy texture of this formula glides on smoothly, quickly absorbing into your skin to leave your feet feeling soft and supple. With daily use, our foot cream can help to soften calluses, smooth rough skin, and provide lasting hydration.
CBDfx takes pride in using only the finest natural ingredients to create our products. We never use any harmful additives or artificial fragrances, ensuring that our products are safe and gentle on your skin. Our foot cream is perfect for anyone looking to pamper and revitalize their feet with the added benefits of organic CBD. Try it today and experience the ultimate relaxation and restoration for your feet.
---
Water (Aqua), Butyrosperrnum Parkii (Shea) Butter, AMP-Acrylates/Vinyl lsodecanoate Crosspolymer, PEG-6, Olive Oil Glycereth-8 Esters, Simmondsla Chinensis (Jojoba) Oil, Cocos nucttera (Coconut) Oil, Aloe Barbadensis (Aloe Vera) Extract, lavendula Angustifolia (lavender) Essential Oil, Melaleuca Alternilolia [Tea tree) Essential Oil, Origanum Vulgare [Oregano) Essential oil, Broad Spectrum Hemp Extract, Proprietary Terpene Blend, Caprylyl Glycol, Glycerine, Citrus Reticulata Fruit Extract, Citrus Aurantium Amara Fruit Extract, Citrus Aurantium Sinensls Peel Extract, Ascorbic Acid, Citric Acid, lactic Acid, Tetrasodium Glutamate Oiacetate
Your order will ship the same day if ordered by 3PM (if in stock). If ordered after 3PM, your order will ship the following day. Please note that orders placed on national holidays and weekends will be sent the next business day that Ethereal Gold Dispensary is open.
Once your order has shipped (typically via USPS), you will receive tracking information by email.
Special Orders: Looking to order a case of a product for that sweet, sweet discount? While we may not have stock of it, it will ship to from us to you (typically) within a week. You will receive an email with 1 business day of your order with an estimated shipping date.
See our Special Order terms for more information.
Subscriptions: Subscription orders will ship the same day if in stock. If a subscription item is not in stock (such as a Special Order of a case of a product), it will ship to you once the item arrives to Ethereal Gold Dispensary (which may take up to a week).
Ethereal Gold Dispensary automatically will use discreet shipping on all orders at no additional cost to you. Learn more here.