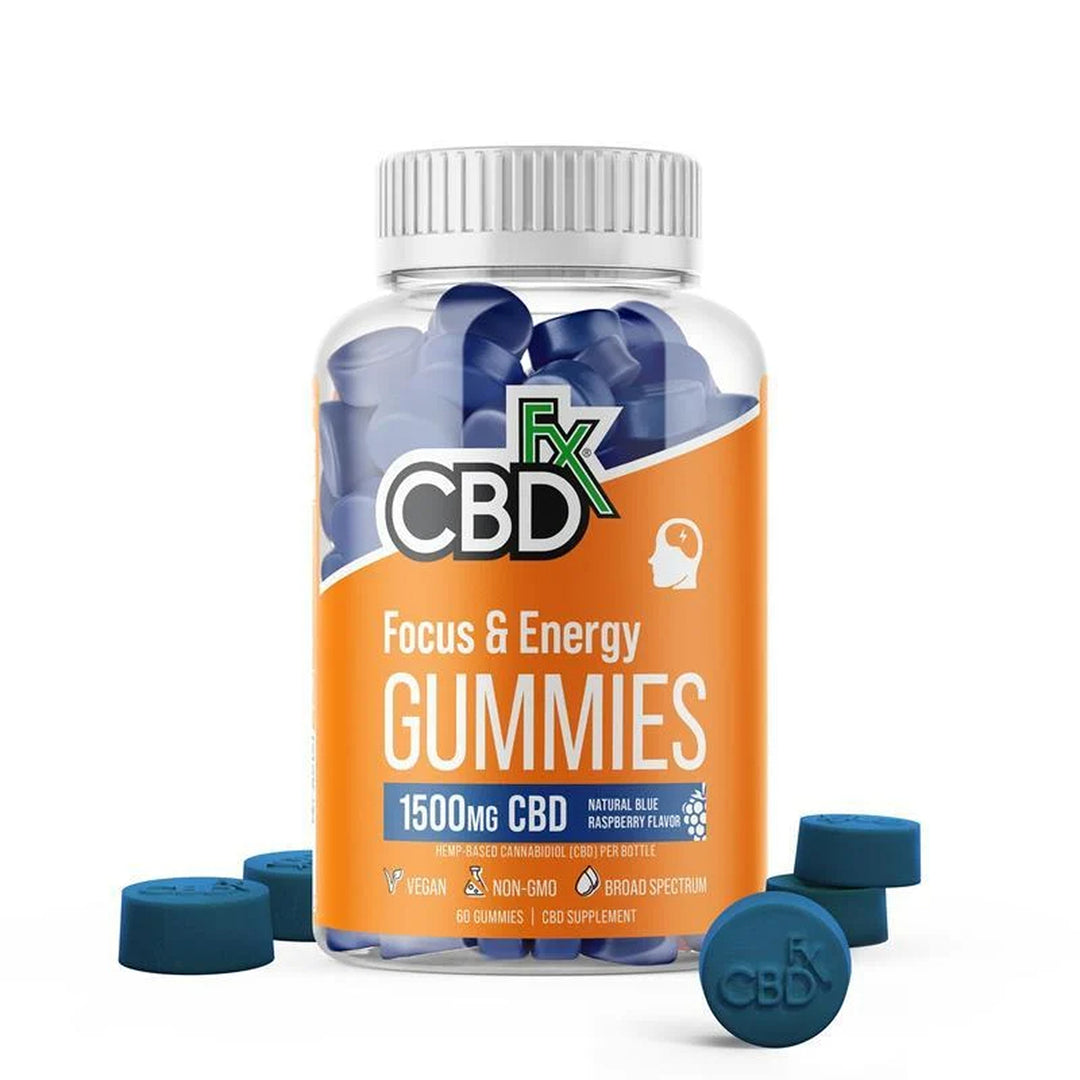 CBDfx Focus and Energy Gummies
---
50mg of CBD and 50mg of Caffeine per Gummy
Welcome to a new era of wellness with CBDfx Focus and Energy Gummies. Each serving delivers 50mg of broad-spectrum CBD, meticulously extracted to ensure ND-THC while retaining all beneficial compounds from the hemp plant.
Supercharge your focus with our specially formulated gummies, each featuring 50mg of phosphatidylserine, also known as Sharp PS. This powerful ingredient is known to enhance cognitive function, leading to laser-like focus and improved mental clarity.
Experience the invigorating lift of 50mg of caffeine in each serving, roughly equivalent to a shot of espresso. With our Focus and Energy Gummies, you can kickstart your day or break through that afternoon slump with a natural energy boost.
Savor the delicious, natural blue raspberry flavor that makes taking your daily supplement a pleasure. Enjoy the taste of wellness with our scrumptious gummies, as effective as they are indulgent.
CBDfx Focus and Energy Gummies are organic, vegan, and non-GMO, aligning perfectly with every lifestyle. Each bite not only boosts your energy and focus but also caters to your dietary needs and preferences.
Choose CBDfx Focus and Energy Gummies for a potent, delicious, and convenient way to enhance your energy and cognitive function. Experience the CBDfx difference - where wellness and flavor coexist in perfect harmony. Stay focused, energized, and ready to conquer your day, every day.
If you do not see your batch number below, please contact us! Focus & Energy
Broad spectrum hemp extract, phosphatidylserine, caffeine, organic tapioca syrup, organic cane sugar, purified water, seaweed extract, citric acid, pectin, tri sodium citrate, natural flavors and color.
Your order will ship the same day if ordered by 3PM (if in stock). If ordered after 3PM, your order will ship the following day. Please note that orders placed on national holidays and weekends will be sent the next business day that Ethereal Gold Dispensary is open.
Once your order has shipped (typically via USPS), you will receive tracking information by email.
Special Orders: Looking to order a case of a product for that sweet, sweet discount? While we may not have stock of it, it will ship to from us to you (typically) within a week. You will receive an email with 1 business day of your order with an estimated shipping date.
See our Special Order terms for more information.
Subscriptions: Subscription orders will ship the same day if in stock. If a subscription item is not in stock (such as a Special Order of a case of a product), it will ship to you once the item arrives to Ethereal Gold Dispensary (which may take up to a week).
Ethereal Gold Dispensary automatically will use discreet shipping on all orders at no additional cost to you. Learn more here.