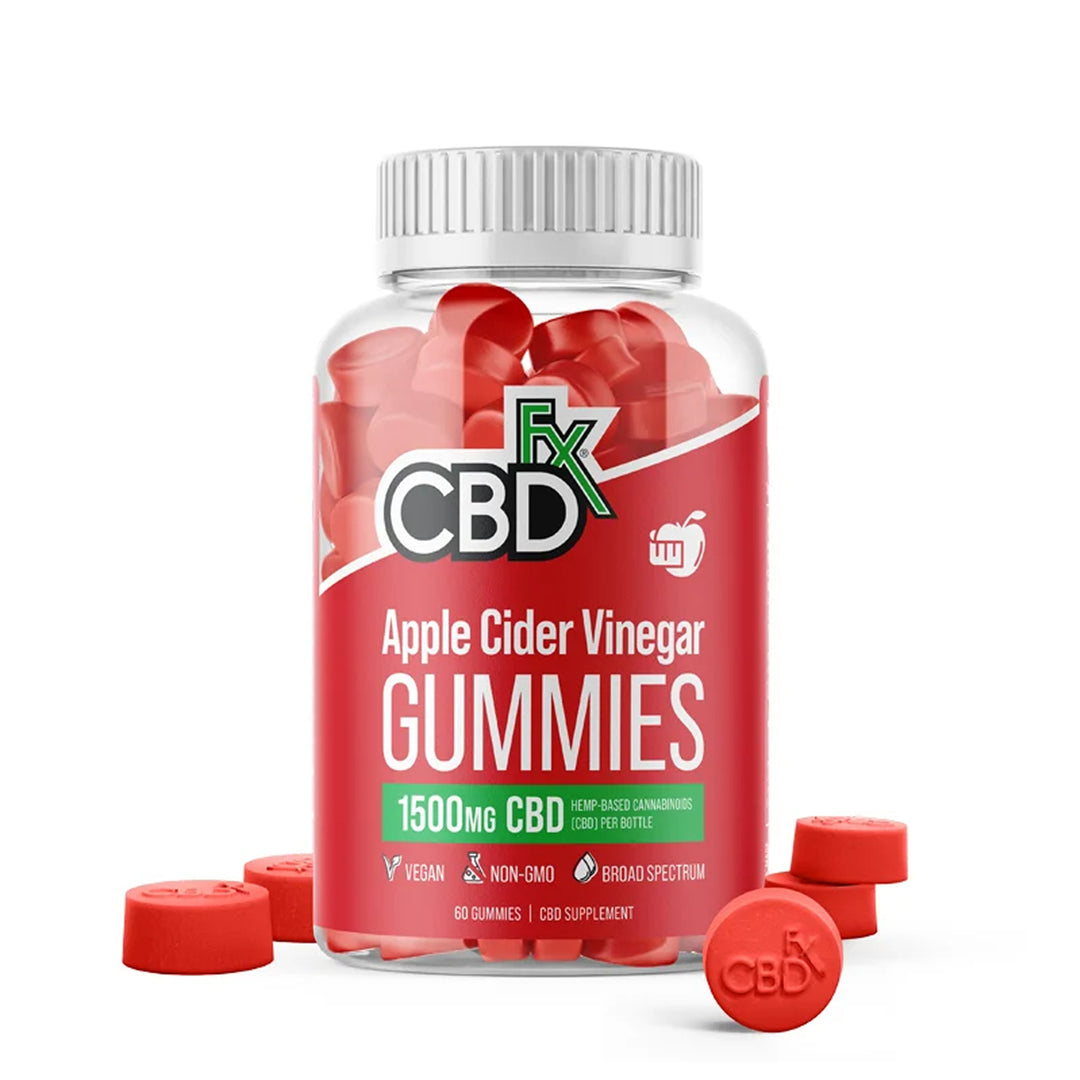 CBDfx CBD with Apple Cider Vinegar Gummies
---
25mg CBD and 500mg Apple Cider Vinegar per Gummy
CBDfx CBD Gummies with Apple Cider Vinegar, your new secret weapon for optimized health. Each gummy delivers 50mg of broad-spectrum CBD, carefully extracted to ensure ND-THC while preserving all beneficial compounds from the hemp plant.
We've taken wellness to the next level by infusing our gummies with 1000mg of apple cider vinegar per serving. Known for its wide range of health benefits, from supporting weight management to heart health, apple cider vinegar enhances your daily wellness routine like never before.
Experience the potent antioxidant properties of 80mg of organic pomegranate in each serving. This super fruit is recognized for its effectiveness in combating oxidative stress, promoting a healthier you.
Our CBD gummies also come packed with vitamin B12, an essential nutrient known for its role in energy production and immune function. Boost your vitality and keep your body's defenses at their peak with these all-natural, vegan, and gluten-free gummies.
CBDfx CBD Gummies with Apple Cider Vinegar offers a deliciously easy way to incorporate CBD and other essential nutrients into your daily routine. Enjoy the balance of taste and wellness with a comprehensive health-boosting supplement that's vegan, gluten-free, and contains ND-THC.
Choose CBDfx CBD Gummies with Apple Cider Vinegar for an all-in-one wellness solution. Unleash the power of nature's best ingredients, expertly combined to help you feel your best every day. Experience the CBDfx difference today!
If you do not see your batch number below, please contact us! Apple Cider Vinegar
Organic Tapioca Syrup, Organic Cane Sugar, Purified Water, Pectin, Sodium Citrate, Citric Acid, Tomato Lycopene (For Color), Natural Flavor, Broad Spectrum Hemp Extract, Cannabinoids, Organic Apple Cider Vinegar, Organic Pomegranate, Vitamin B12.
Your order will ship the same day if ordered by 3PM (if in stock). If ordered after 3PM, your order will ship the following day. Please note that orders placed on national holidays and weekends will be sent the next business day that Ethereal Gold Dispensary is open.
Once your order has shipped (typically via USPS), you will receive tracking information by email.
Special Orders: Looking to order a case of a product for that sweet, sweet discount? While we may not have stock of it, it will ship to from us to you (typically) within a week. You will receive an email with 1 business day of your order with an estimated shipping date.
See our Special Order terms for more information.
Subscriptions: Subscription orders will ship the same day if in stock. If a subscription item is not in stock (such as a Special Order of a case of a product), it will ship to you once the item arrives to Ethereal Gold Dispensary (which may take up to a week).
Ethereal Gold Dispensary automatically will use discreet shipping on all orders at no additional cost to you. Learn more here.