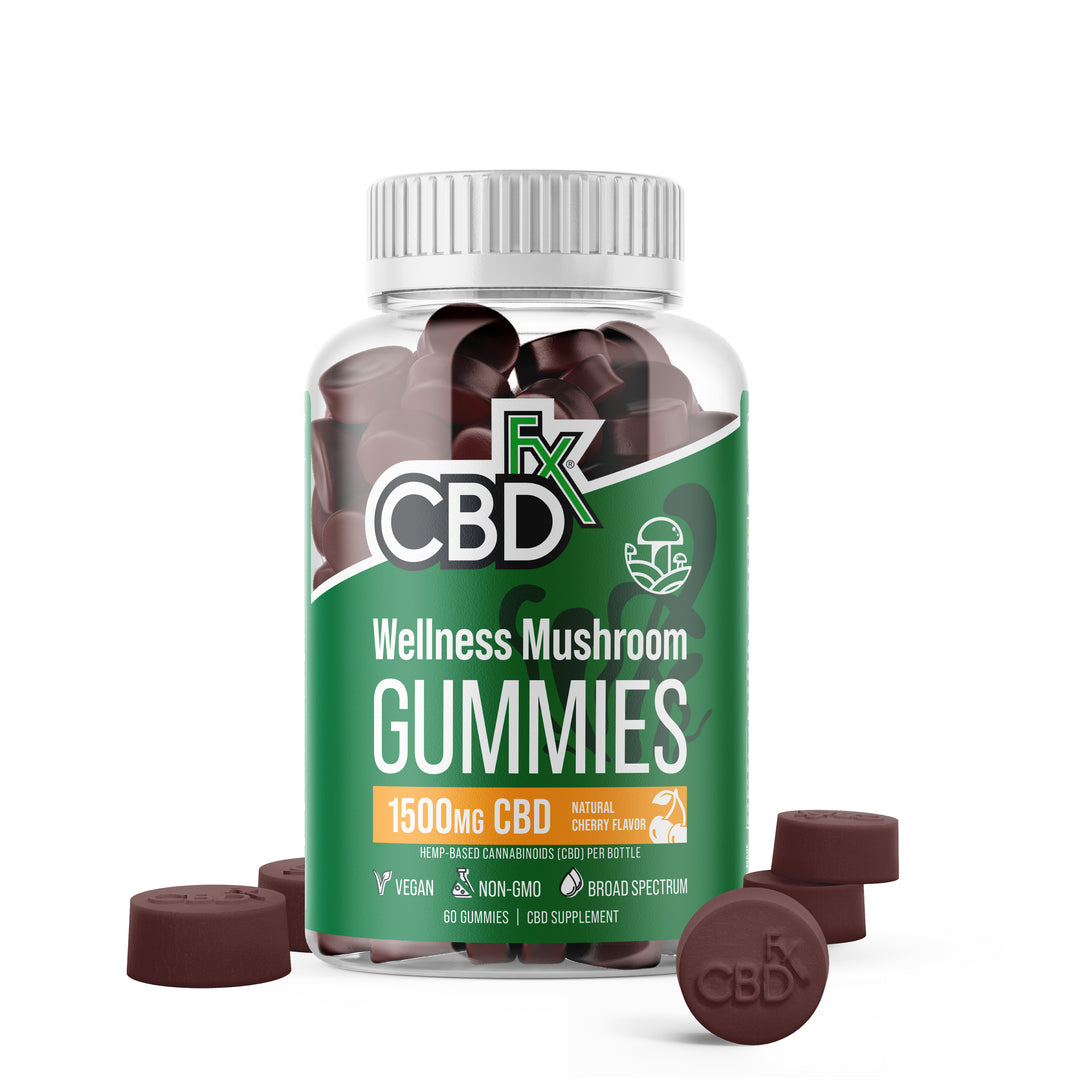 CBDfx CBD Mushroom Gummies
---
25mg CBD per Gummy + Mushrooms
CBDfx CBD Mushroom Gummies - the perfect wellness treat for those looking for a delicious way to support their health and wellbeing. These vegan mushroom gummies are made with organic ingredients and packed with a powerful blend of seven different mushrooms: Turkey Tail, Lion's Mane, Cordyceps, Chaga, Shiitake, Maitake, and Red Reshi.
Each container of CBDfx CBD Mushroom Gummies contains 1500mg of broad spectrum CBD, with each gummy containing 25mg of CBD. This potent dose of CBD is blended with the mushroom extract to create a unique and powerful formula that supports your overall wellness.
The Turkey Tail mushroom is known for its immune-boosting properties, while Lion's Mane is thought to support brain health and cognitive function. Cordyceps is believed to support energy and endurance, while Chaga is known for its antioxidant properties. Shiitake and Maitake mushrooms are popular for their anti-inflammatory properties, and Red Reshi is believed to support overall health and wellbeing.
CBDfx CBD Mushroom Gummies are free from animal products, making them perfect for vegans, and are made with only the highest quality organic ingredients. Whether you're looking to support your immune system, improve your cognitive function, or reduce inflammation, these gummies are a great addition to your daily routine. Try them today and discover the power of mushrooms and CBD combined!
Organic Turkey Tail Mushroom, Organic Lion's Mane Mushroom, Organic Cordyceps Mushroom, Organic Chaga Mushroom, Organic Shiitake Mushroom, Organic Maitake Mushroom, Organic Red Reishi Mushroom, Broad Spectrum Hemp Extract. Organic Cane Sugar, Organic Tapioca Syrup, Purified Water, Seaweed Extract, Pectin, Tri Sodium Citrate, Citric Acid, Natural Flavor and Natural Color.
Your order will ship the same day if ordered by 3PM (if in stock). If ordered after 3PM, your order will ship the following day. Please note that orders placed on national holidays and weekends will be sent the next business day that Ethereal Gold Dispensary is open.
Once your order has shipped (typically via USPS), you will receive tracking information by email.
Special Orders: Looking to order a case of a product for that sweet, sweet discount? While we may not have stock of it, it will ship to from us to you (typically) within a week. You will receive an email with 1 business day of your order with an estimated shipping date.
See our Special Order terms for more information.
Subscriptions: Subscription orders will ship the same day if in stock. If a subscription item is not in stock (such as a Special Order of a case of a product), it will ship to you once the item arrives to Ethereal Gold Dispensary (which may take up to a week).
Ethereal Gold Dispensary automatically will use discreet shipping on all orders at no additional cost to you. Learn more here.