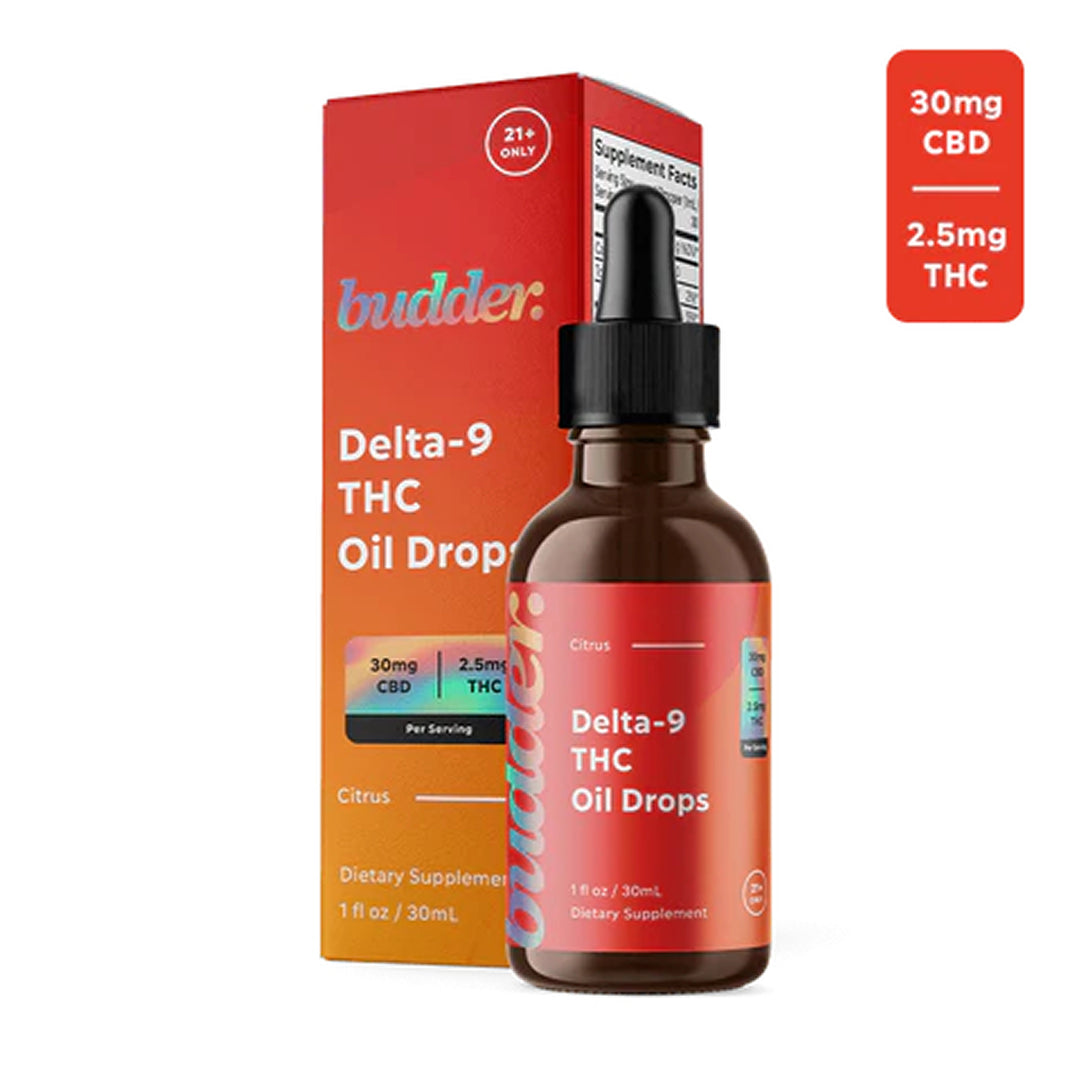 budder. Delta-9 THC oil drops
---
2.5mg Delta-9 THC & 30mg CBD per Serving | 75mg Delta-9 THC & 900mg CBD per Bottle
Experience the quick onset of tranquility with budder. Delta-9 THC oil drops. Expertly formulated with 2.5mg of potent Delta-9 THC and a generous 30mg of CBD per serving, this full-spectrum product is designed to provide swift and robust relaxation.
Product Highlights:
Delta-9 THC Concentrated: Each serving of budder. THC oil delivers a potent 2.5mg of Delta-9 THC, perfect for a rapid, rejuvenating buzz.
CBD-Enriched: Balancing the THC, we've incorporated a hefty 30mg of CBD per serving. Known for its calming and therapeutic properties, CBD enhances the relaxing experience.
Full Spectrum Product: Leverage the comprehensive power of the cannabis plant. Our oil drops feature a range of cannabinoids for an effective, synergistic effect.
Swift Onset: Designed to be fast-acting, budder Delta-9 THC oil drops ensure you feel the soothing effects promptly.
Guaranteed Quality: Sourced from sustainable farms and lab-tested for purity and potency, budder. THC oil is a product you can trust for quality and safety.
budder. Delta-9 THC oil drops, is not just a product but a journey to a realm of swift relaxation and wellness. Experience the remarkable balance of relaxation and relief. Begin your journey towards a tranquil, pain-free lifestyle today.
Organic Hemp Extract, Organic MCT Oil, Organic Orange Essential Oil, Organic Lime Essential Oil, Organic Lemon Essential Oil, Organic Coconut Oil Stevia.
Contains: Tree Nuts (Coconut).
Your order will ship the same day if ordered by 3PM (if in stock). If ordered after 3PM, your order will ship the following day. Please note that orders placed on national holidays and weekends will be sent the next business day that Ethereal Gold Dispensary is open.
Once your order has shipped (typically via USPS), you will receive tracking information by email.
Special Orders: Looking to order a case of a product for that sweet, sweet discount? While we may not have stock of it, it will ship to from us to you (typically) within a week. You will receive an email with 1 business day of your order with an estimated shipping date.
See our Special Order terms for more information.
Subscriptions: Subscription orders will ship the same day if in stock. If a subscription item is not in stock (such as a Special Order of a case of a product), it will ship to you once the item arrives to Ethereal Gold Dispensary (which may take up to a week).
Ethereal Gold Dispensary automatically will use discreet shipping on all orders at no additional cost to you. Learn more here.