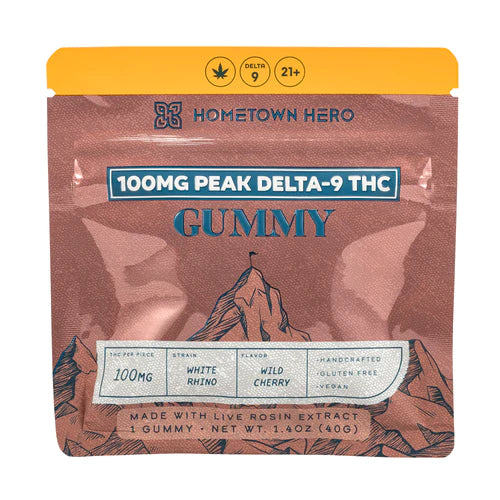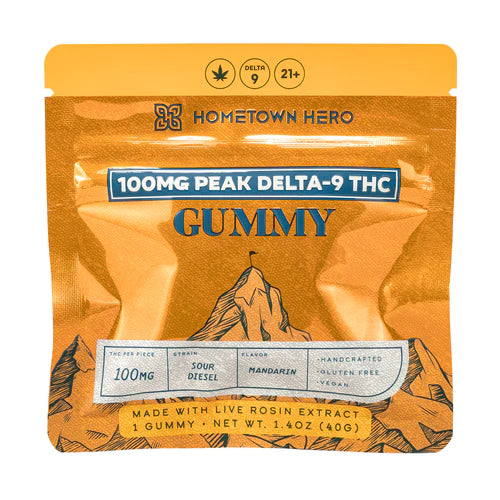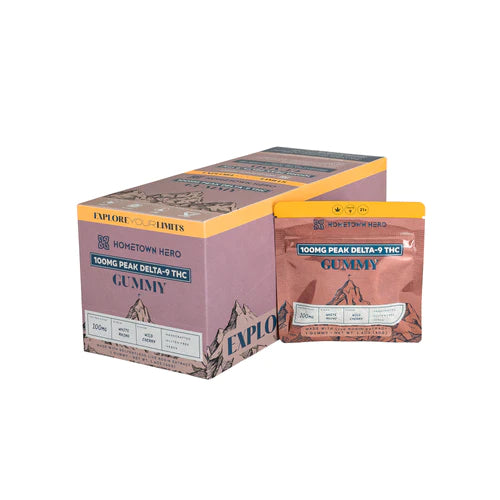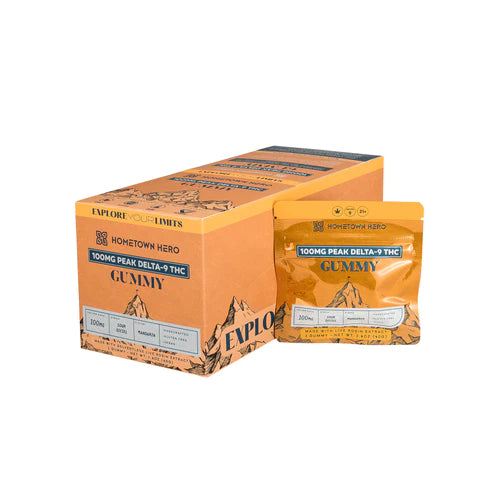 Hometown Hero Peak Delta-9 Live Rosin Gummy
---
100mg Delta-9 THC & Live Rosin Per Gummy
Discover the peak of potency with a Hometown Hero Peak Delta-9 Live Rosin Gummy. Designed for those who seek the finest, this premium gummy packs a robust 100mg of Delta-9 THC, ensuring an elevated experience with every bite.
Product Highlights:
Potent Dose: Each gummy delivers an impressive 100mg of Delta-9 THC (available in 4 pre-scored sections for 25mg dosage if desired).
Rich in Rosin: Infused with 20mg of live rosin, savor the authentic taste and aroma with every chew.
Single Pack: One exquisite pre-scored gummy per pack, perfect for precise dosage.
Flavorful Strains to Choose From:
White Rhino (Indica):
Myrcene for its calming effects.
Caryophyllene offering spicy undertones.
Humulene adding an earthy aroma.
Sour Diesel (Sativa):
Caryophyllene known for its spicy and woody fragrance.
Myrcene bringing a hint of musk.
Terpinolene twice for its piney and floral notes.
Bisabolol imparting a soothing, floral touch.
Whether you choose the soothing embrace of White Rhino or the energizing burst of Sour Diesel, a Hometown Hero peak Delta-9 Live Rosin Gummies promise an unparalleled sensory journey. Ideal for both new and seasoned users, these gummies redefine premium cannabis indulgence.

Order now and experience the pinnacle of cannabis confectionery.
If you do not see your batch number below, please contact us! White Rhino
Sour DIesel
Corn Syrup, Sugar, Water, Pectin, Natural Flavor, Citric Acid, Sodium Citrate, Colors, Hemp Derived Delta-9 Extract, Live Rosin Extract
Your order will ship the same day if ordered by 3PM (if in stock). If ordered after 3PM, your order will ship the following day. Please note that orders placed on national holidays and weekends will be sent the next business day that Ethereal Gold Dispensary is open.
Once your order has shipped (typically via USPS), you will receive tracking information by email.
Special Orders: Looking to order a case of a product for that sweet, sweet discount? While we may not have stock of it, it will ship to from us to you (typically) within a week. You will receive an email with 1 business day of your order with an estimated shipping date.
See our Special Order terms for more information.
Subscriptions: Subscription orders will ship the same day if in stock. If a subscription item is not in stock (such as a Special Order of a case of a product), it will ship to you once the item arrives to Ethereal Gold Dispensary (which may take up to a week).
Ethereal Gold Dispensary automatically will use discreet shipping on all orders at no additional cost to you. Learn more here.