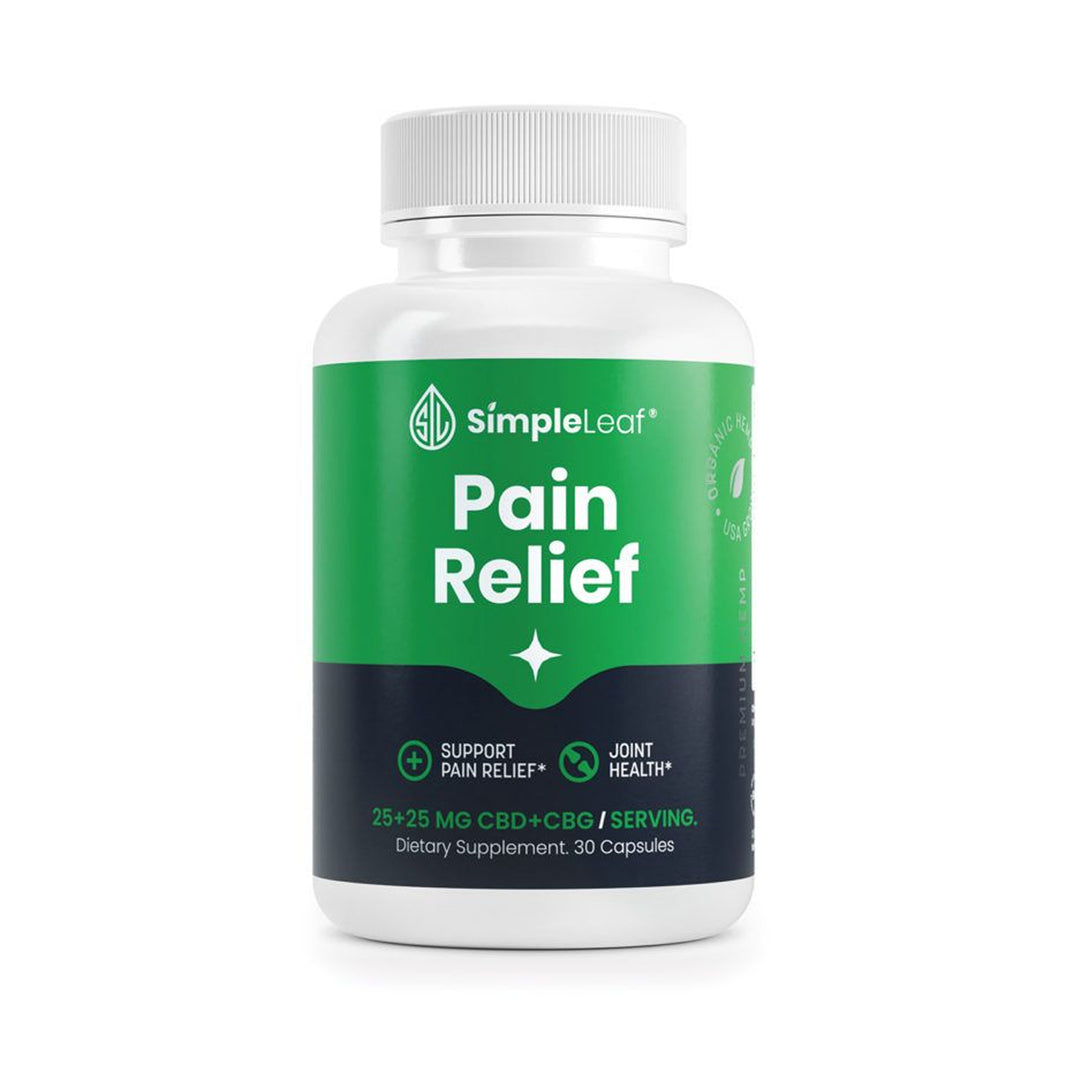 Simple Leaf CBD + CBG Pain Relief
---
25mg CBD + 25mg CBG per Serving
Unlock the powerful synergy of CBD and CBG enhanced with a premium blend of nature's finest pain-relief ingredients. Simple Leaf's CBD + CBG Pain Relief capsules are meticulously designed to bring fast, effective, and all-natural relief to discomfort.
Key Features:
Dual Cannabinoid Strength: Each capsule harmoniously blends 25mg CBD with 25mg CBG, leveraging the potent combined power of these two cannabinoids for superior pain relief.

Nature's Finest Allies: Complemented by a selection of the world's most potent natural pain-relievers:

Turmeric Curcumin - Known for its powerful anti-inflammatory properties and the ability to ease pain.
Bioperine - Enhances absorption, ensuring each ingredient's maximum potential is realized.
Glucosamine & Chondroitin - Perfect for joint health and mobility.
Açaí Berries - A superfood celebrated for its rich antioxidant and anti-inflammatory attributes.

For All Walks of Life: Whether you're an athlete, an office worker, or simply someone navigating life's occasional aches, this formula has been tailored for you.

Buzz-Free Relief: Benefit from effective pain relief without the high. Our formula is 100% non-habit forming and buzz-free.

Innovative & Unique: Breaking away from the traditional, Simple Leaf introduces a herbal pain relief blend that's genuinely pioneering, setting a new standard in natural pain management.
Embrace the future of pain relief with Simple Leaf's CBD + CBG Pain Relief Capsules. This product masterfully combines nature's finest to provide an unparalleled relief experience. Say goodbye to discomfort and hello to a life of vitality and ease. The future of natural pain relief is here; and it's wrapped in a Simple Leaf capsule.
If you do not see your batch number below, please contact us! Pain Relief Capsule
Hemp CBD, Hemp CBG, Relief X Pain Complex (Acai A2 Complex, Curcumin C3 Complex, Bioperine, Glucosamine, Chondrotin)
Your order will ship the same day if ordered by 3PM (if in stock). If ordered after 3PM, your order will ship the following day. Please note that orders placed on national holidays and weekends will be sent the next business day that Ethereal Gold Dispensary is open.
Once your order has shipped (typically via USPS), you will receive tracking information by email.
Special Orders: Looking to order a case of a product for that sweet, sweet discount? While we may not have stock of it, it will ship to from us to you (typically) within a week. You will receive an email with 1 business day of your order with an estimated shipping date.
See our Special Order terms for more information.
Subscriptions: Subscription orders will ship the same day if in stock. If a subscription item is not in stock (such as a Special Order of a case of a product), it will ship to you once the item arrives to Ethereal Gold Dispensary (which may take up to a week).
Ethereal Gold Dispensary automatically will use discreet shipping on all orders at no additional cost to you. Learn more here.