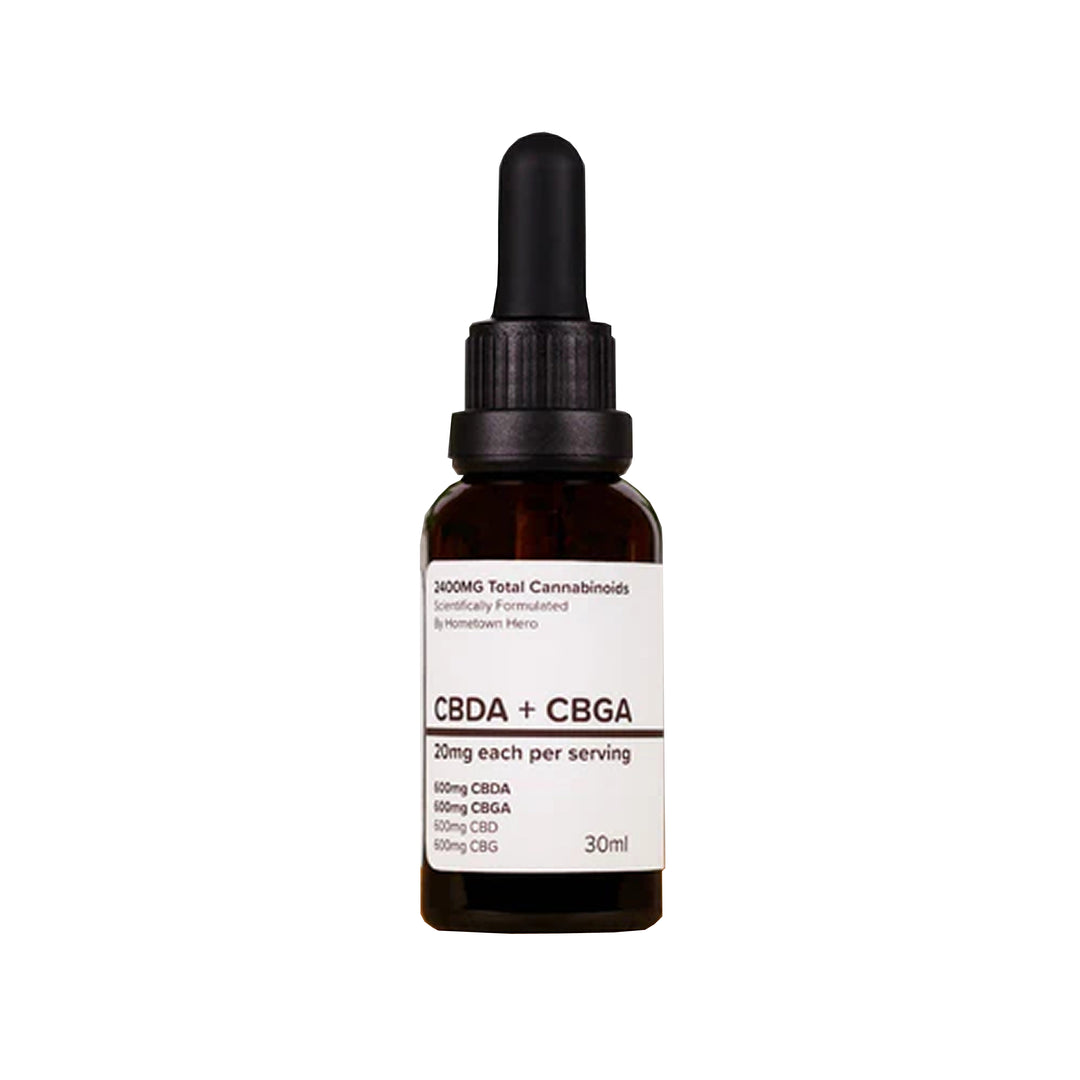 Hometown Hero CBDA + CBGA Tincture
---
Hometown Hero's Premium CBDA + CBGA + CBD + CBG Tincture - Your Ultimate Wellness Companion!
Packed in a convenient 30ml bottle with 30 servings, this unique tincture is expertly crafted to harness the therapeutic qualities of four powerful cannabinoids – 600mg of CBDA, 600mg of CBGA, 600mg of CBD, and 600mg of CBG. With every 1ml serving, you unlock a wealth of benefits!
Potent Cannabinoid Fusion: This tincture's balanced formulation ensures you receive the full spectrum of benefits. CBDA and CBGA are raw cannabinoids that are the precursors to CBD and CBG. Combining these with CBD and CBG creates a potent entourage effect, maximizing the natural benefits.
Quality You Can Trust: Hometown Hero is synonymous with quality and transparency. All their products undergo rigorous testing to ensure purity and potency. We source our ingredients sustainably, and our CO2 extraction method guarantees a high-quality, solvent-free tincture.
Comprehensive Benefits: Whether you're seeking relief from daily stresses, support for joints and mobility, or improved sleep quality, this tincture is your one-stop solution. The cannabinoids work synergistically to enhance each other's benefits.
Easy to Use: With a calibrated dropper, it's easy to measure your dosage. Take it sublingually for fast absorption, or add it to your favorite beverage or meal.
Reap the holistic benefits of cannabinoids with Hometown Hero's Premium CBDA + CBGA + CBD + CBG Tincture. Experience the perfect balance and potency that sets it apart from the rest. Order yours today for a natural and transformative wellness journey!
If you do not see your batch number below, please contact us! CBDA + CBGA Tincture
Hemp Extract (CBDA, CBGA, CBD, CBG), MCT oil from organic coconut oil
Your order will ship the same day if ordered by 3PM (if in stock). If ordered after 3PM, your order will ship the following day. Please note that orders placed on national holidays and weekends will be sent the next business day that Ethereal Gold Dispensary is open.
Once your order has shipped (typically via USPS), you will receive tracking information by email.
Special Orders: Looking to order a case of a product for that sweet, sweet discount? While we may not have stock of it, it will ship to from us to you (typically) within a week. You will receive an email with 1 business day of your order with an estimated shipping date.
See our Special Order terms for more information.
Subscriptions: Subscription orders will ship the same day if in stock. If a subscription item is not in stock (such as a Special Order of a case of a product), it will ship to you once the item arrives to Ethereal Gold Dispensary (which may take up to a week).
Ethereal Gold Dispensary automatically will use discreet shipping on all orders at no additional cost to you. Learn more here.