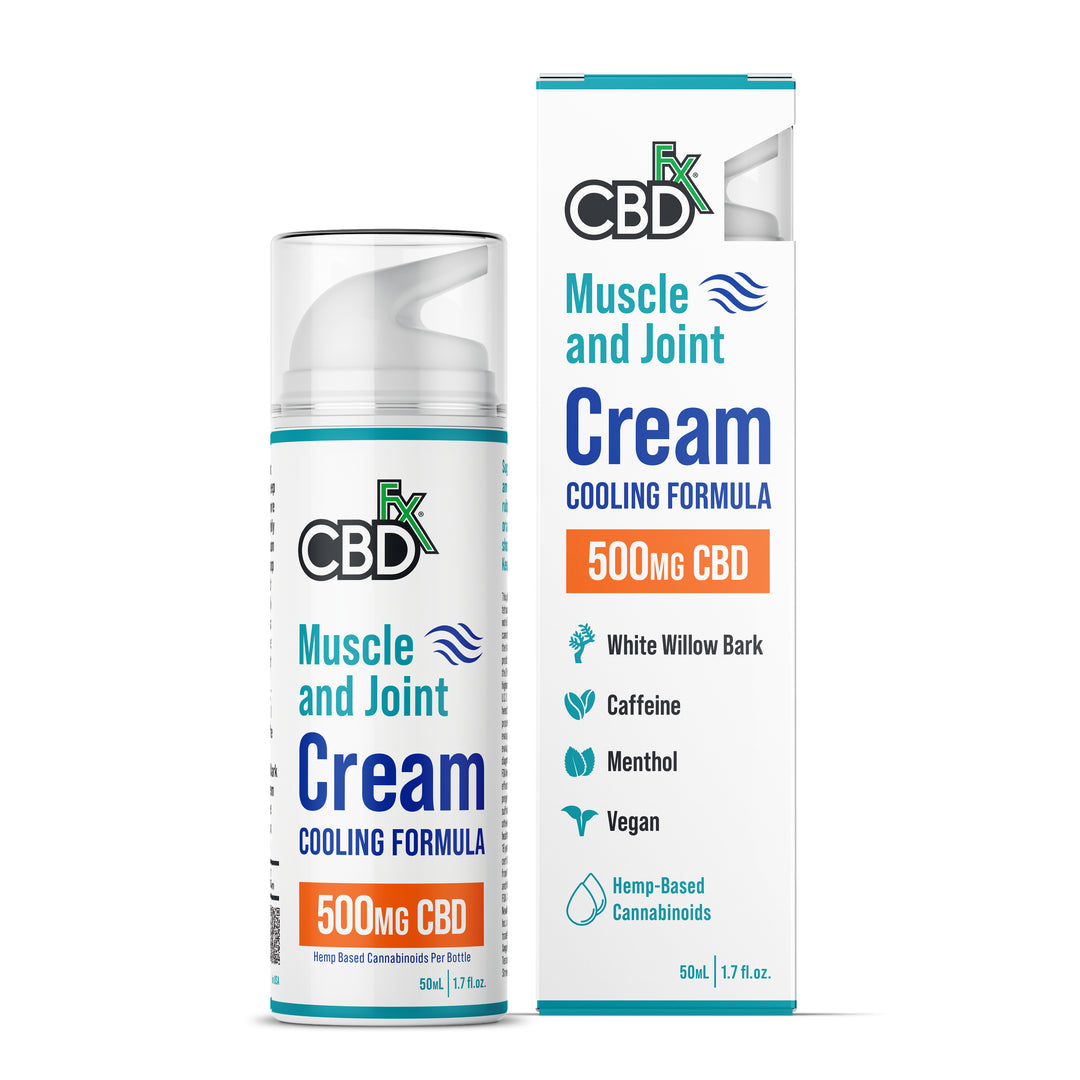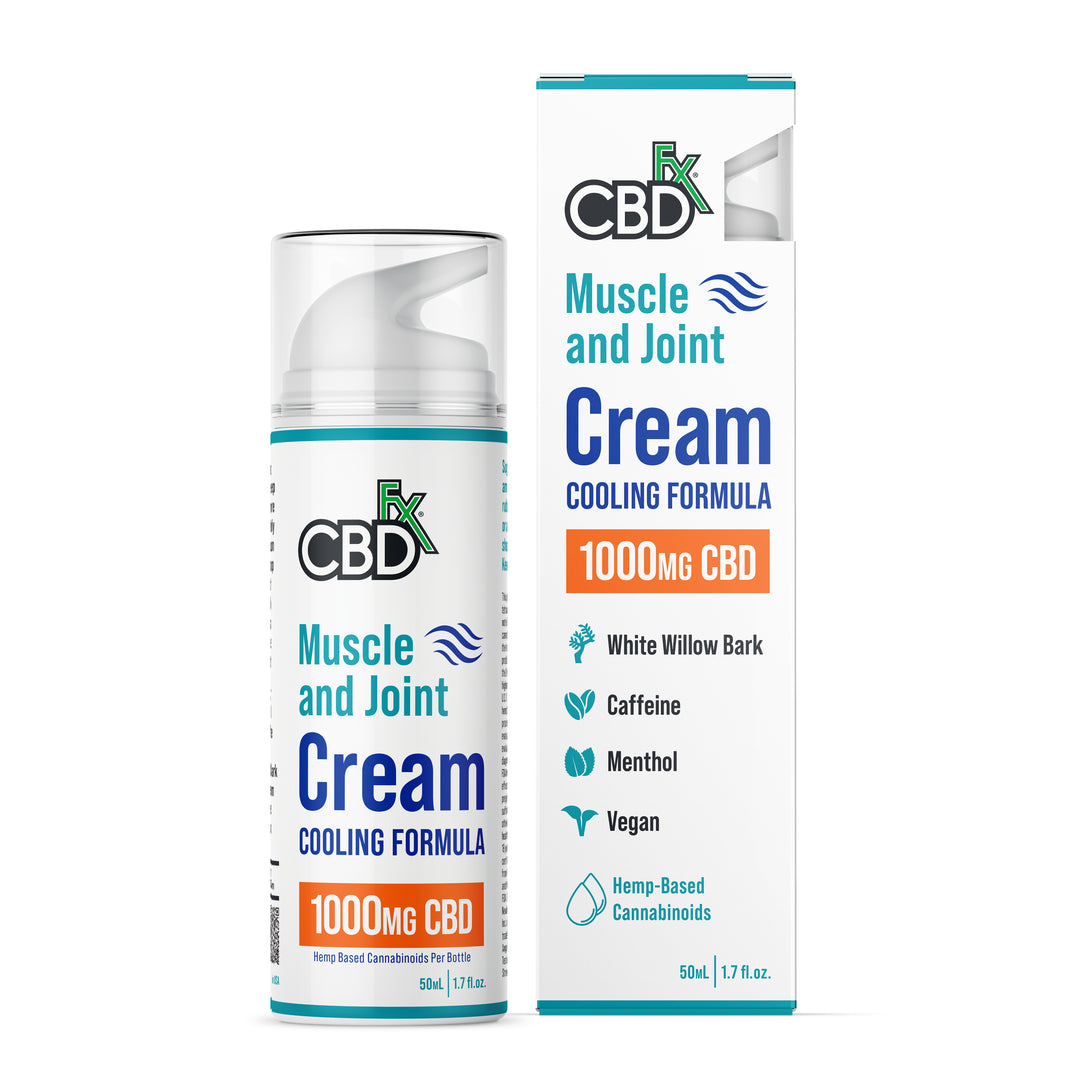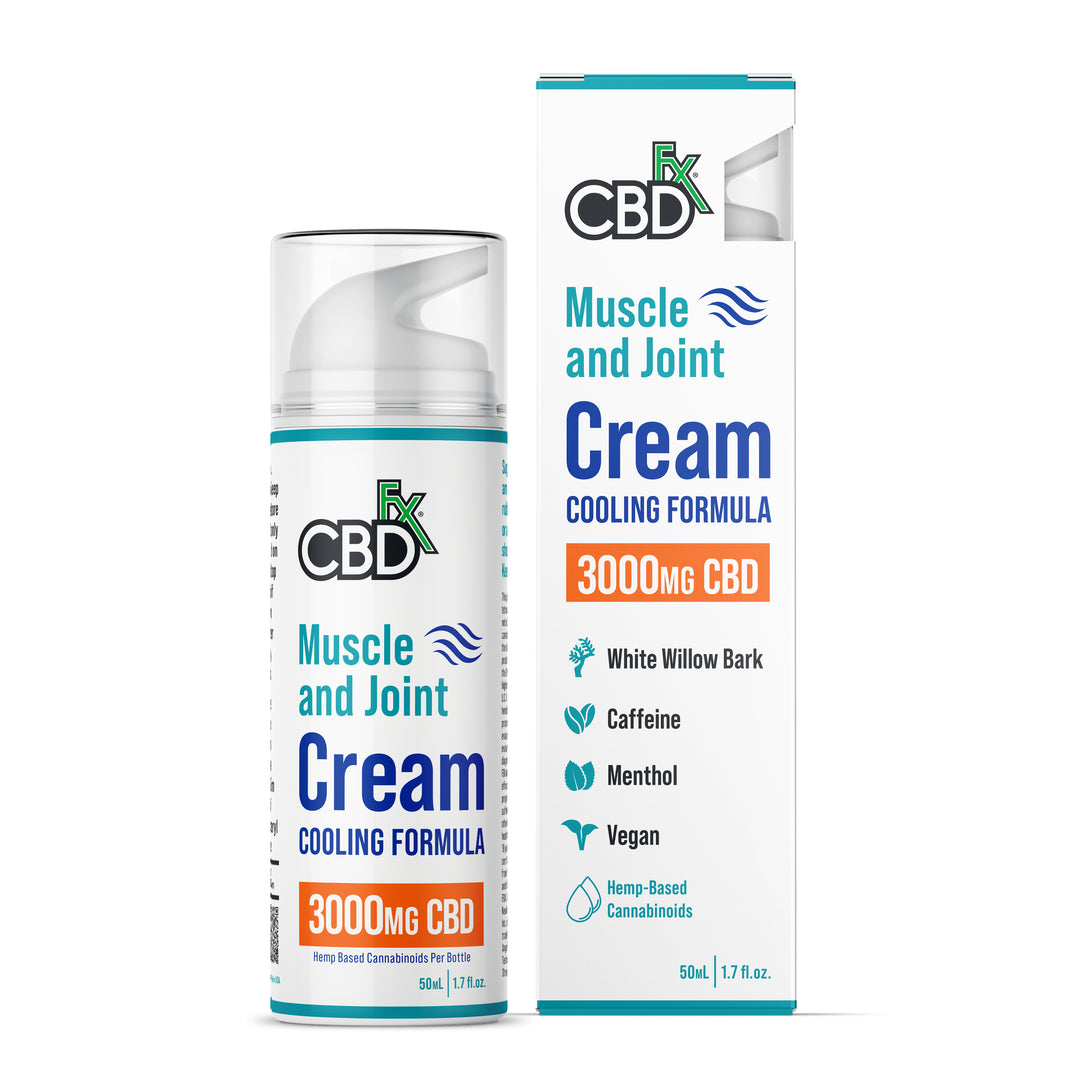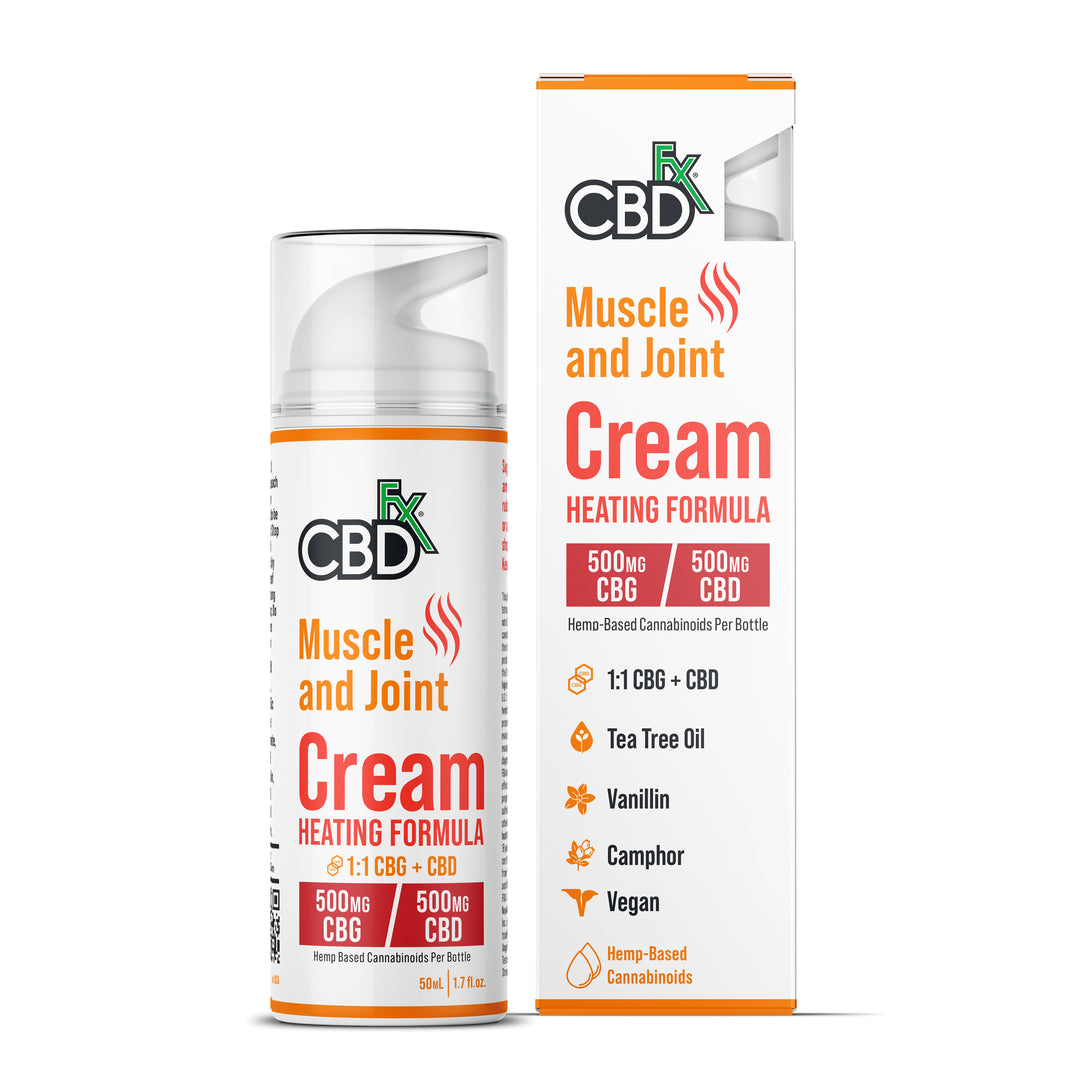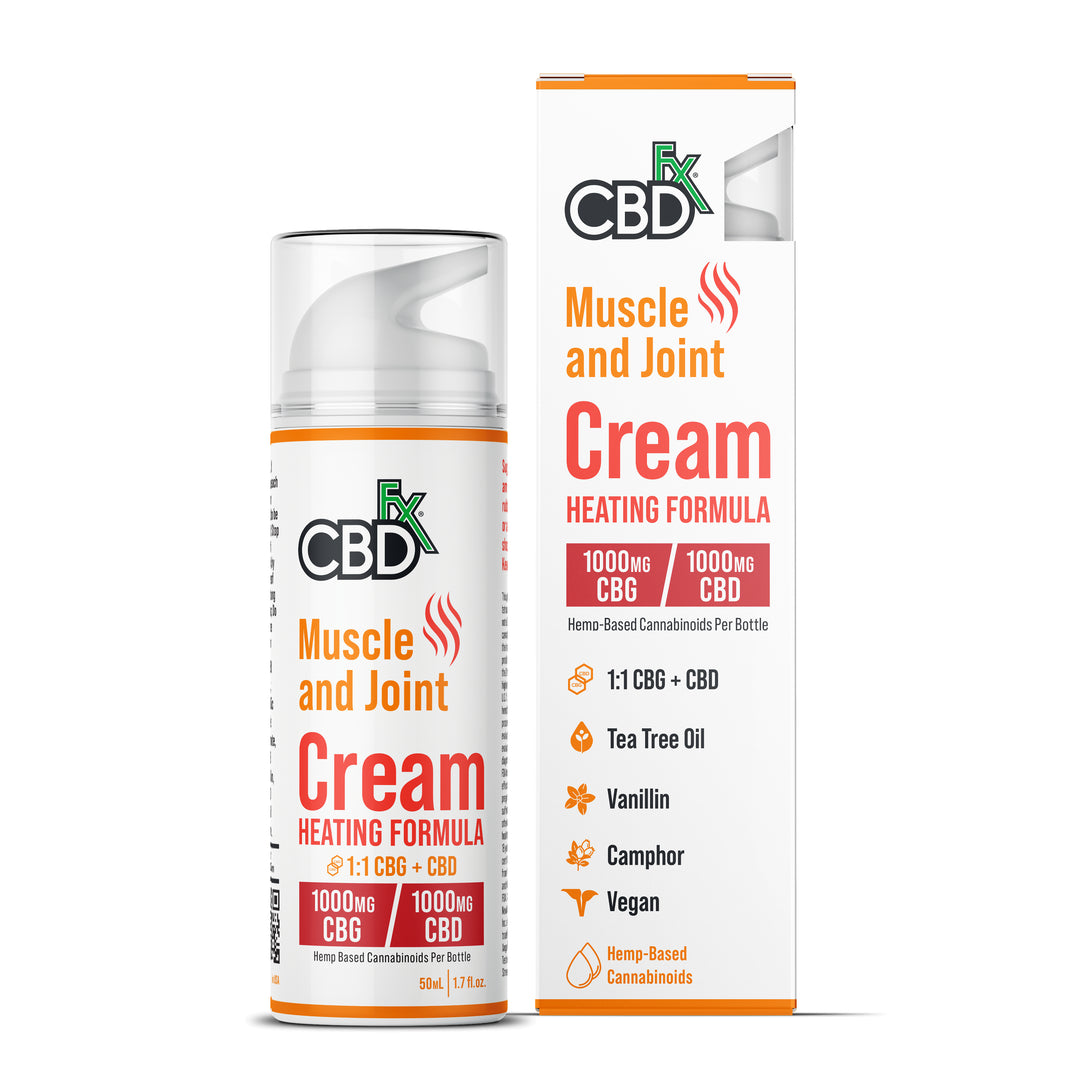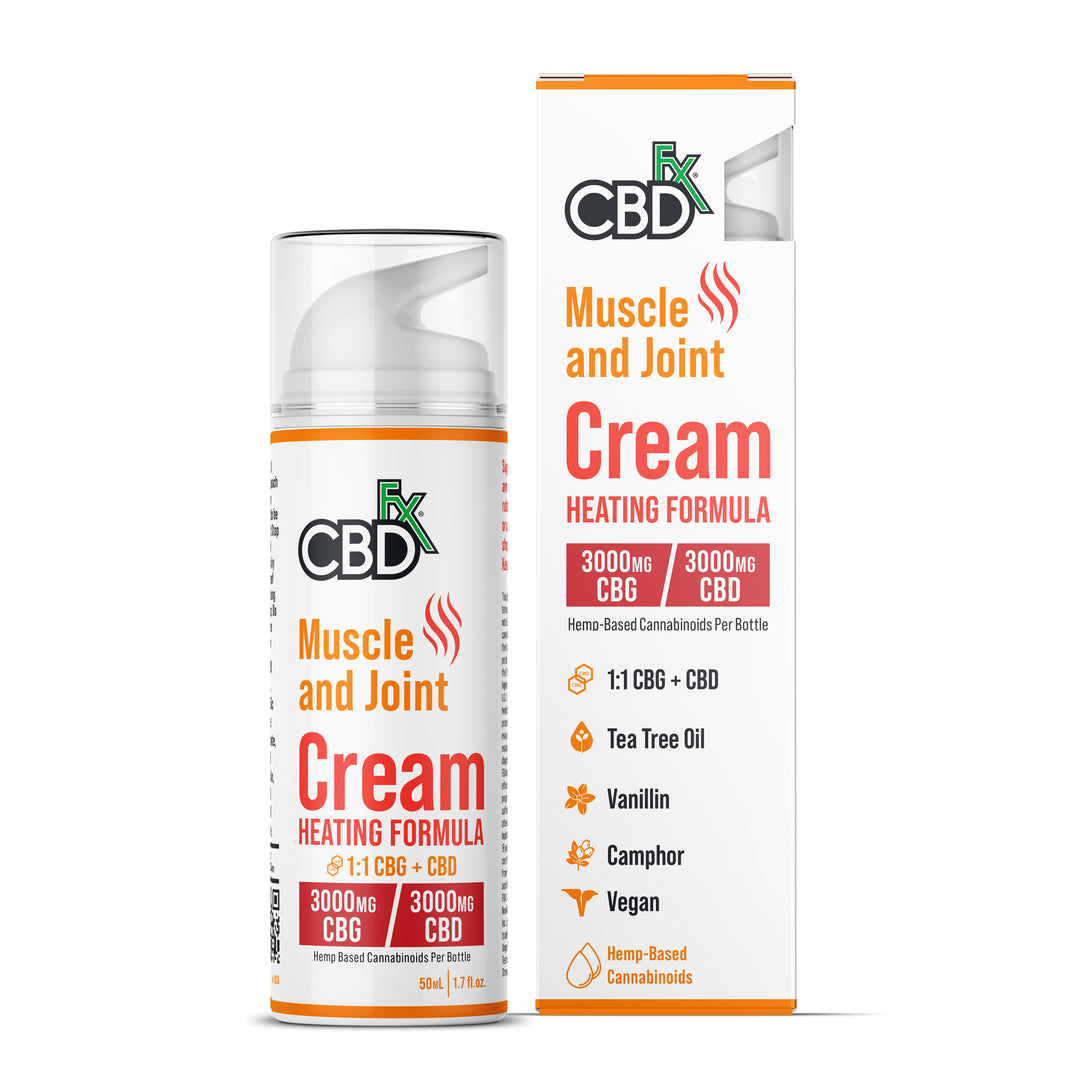 CBDfx Muscle & Joint Cream
---
The CBDfx Muscle & Joint Cream is available in two highly effective formulas designed to target your specific needs. Whether you're looking to soothe sore muscles or alleviate joint pain, our CBD-infused creams offer a powerful solution for all your discomforts.
The Heating Formula contains a 1:1 ratio of CBD and CBG, two powerful cannabinoids known for their anti-inflammatory and pain-relieving properties. The combination of these two compounds with ingredients tea tree oil, vanillin and camphor creates a warming sensation, penetrating deep into your skin to provide fast and effective relief.
On the other hand, our Cooling Formula is made with pure CBD and provides a cooling effect with menthol, white willow bark and caffeine, perfect for soothing overworked muscles or reducing inflammation. CBD has been widely researched and is known for its ability to reduce inflammation and promote overall relaxation.
Both formulas come in three different sizes, 500mg, 1000mg, and 3000mg, so you can choose the strength that best suits your needs. Our creams are formulated with only the highest quality, organically grown hemp, ensuring that you get the most effective and pure product available.
The CBDfx Muscle & Joint Cream is easy to apply and quickly absorbed, making it perfect for on-the-go use. So whether you're an athlete, fitness enthusiast, or just looking for a natural way to relieve pain and inflammation, our CBD-infused creams offer a safe, natural, and effective solution to all your needs.
If you do not see your batch number below, please contact us! Cooling Formula - 500mg
Cooling Formula - 1000mg
Cooling Formula - 3000mg
Heating Formula - 500mg
Heating Formula - 1000mg
Heating Formula - 3000mg
Cooling Formula: Water, Menthol, Hydroxylated Lecithin, Acrylic Polymer, Caffeine Anhydrous, Sodium Bicarbonate, White Willow Bark Extract, Broad Spectrum Hemp Extract (500Mg), Tocopheryl Acetate, Sodium Benzoate

Heating Formula: "Purified Distilled Water, Lecithin, Carbopol 980 NF, Menthol, NaHCO3 (Sodium Bicarbonate), Tocopheryl Acetate,Sodium Benzoate, Potassium Sorbate, Organic Hemp Oil, Caffeine Anhydrous, White Willow Bark Extract: Salicin, 98%, Vanillyl Butyl Ether, Camphor Oil, Eucalyptus Oil, Tea Tree Oil, CBD Isolate 99%, CBG Isolate 99%
"
Your order will ship the same day if ordered by 3PM (if in stock). If ordered after 3PM, your order will ship the following day. Please note that orders placed on national holidays and weekends will be sent the next business day that Ethereal Gold Dispensary is open.
Once your order has shipped (typically via USPS), you will receive tracking information by email.
Special Orders: Looking to order a case of a product for that sweet, sweet discount? While we may not have stock of it, it will ship to from us to you (typically) within a week. You will receive an email with 1 business day of your order with an estimated shipping date.
See our Special Order terms for more information.
Subscriptions: Subscription orders will ship the same day if in stock. If a subscription item is not in stock (such as a Special Order of a case of a product), it will ship to you once the item arrives to Ethereal Gold Dispensary (which may take up to a week).
Ethereal Gold Dispensary automatically will use discreet shipping on all orders at no additional cost to you. Learn more here.