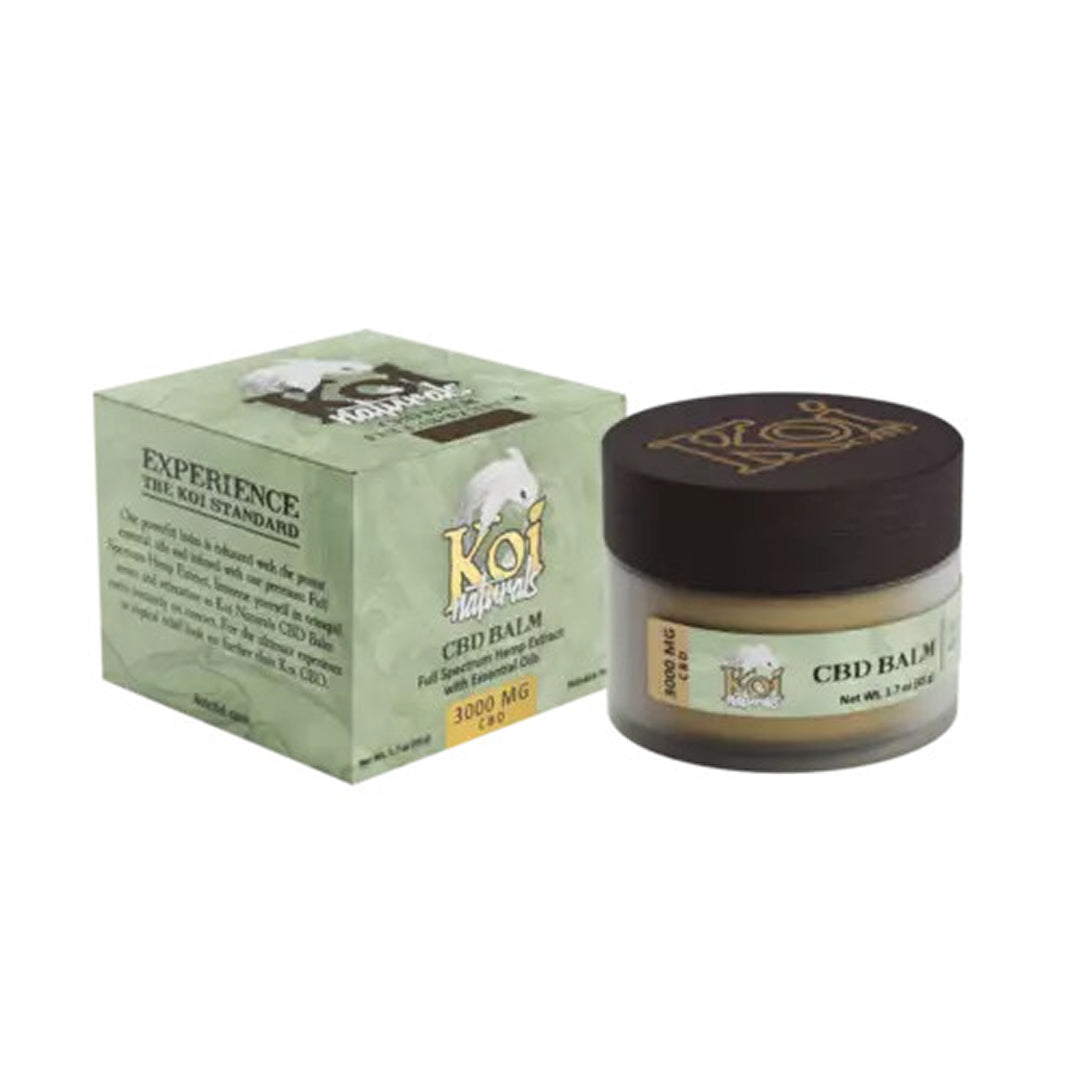 Koi Naturals Full Spectrum CBD Balm
---
3000mg CBD per Jar 
Koi Naturals Full Spectrum CBD Balm with 3000mg of full spectrum CBD per jar is the perfect solution for those who are looking for maximum relief from their aches, pains, and stress. This CBD balm is one of the highest potency full panel lab-tested CBD balms available in the market, making it a great choice for those who want to experience the full benefits of CBD. The 3000mg of full spectrum CBD in each jar ensures that you get a potent dose of CBD with each application.
The Koi Naturals CBD balm is made using only the finest quality ingredients and is formulated with a unique blend of natural oils, waxes, and extracts to provide deep nourishment and hydration to the skin. The full spectrum CBD used in the balm provides a wide range of cannabinoids and terpenes, which work together to enhance the therapeutic effects of CBD.
This CBD balm is easy to use and is designed to be applied topically to the skin. Simply massage a small amount of the balm into the affected area and let it absorb into the skin for fast, effective relief. The balm is non-greasy and absorbs quickly, leaving your skin feeling soft and smooth.
Grapeseed Oil, Yellow Beeswax, Cannabidiol (CBD) from Hemp Extract, Organic Coconut Oil, Peppermint Oil, Eucalyptus Leaf Oil, Rosemary Leaf Oil, Sweet Basil Oil, Spearmint Oil, Lavender Flower Oil, Ginger Root Oil, Ravensara Oil, Cinnamon Leaf Oil, Lemongrass Oil, Helichrysum Oil, Roman Chamomile Flower Oil, Aloe Vera Leaf Juice, Fragrance.
Your order will ship the same day if ordered by 3PM (if in stock). If ordered after 3PM, your order will ship the following day. Please note that orders placed on national holidays and weekends will be sent the next business day that Ethereal Gold Dispensary is open.
Once your order has shipped (typically via USPS), you will receive tracking information by email.
Special Orders: Looking to order a case of a product for that sweet, sweet discount? While we may not have stock of it, it will ship to from us to you (typically) within a week. You will receive an email with 1 business day of your order with an estimated shipping date.
See our Special Order terms for more information.
Subscriptions: Subscription orders will ship the same day if in stock. If a subscription item is not in stock (such as a Special Order of a case of a product), it will ship to you once the item arrives to Ethereal Gold Dispensary (which may take up to a week).
Ethereal Gold Dispensary automatically will use discreet shipping on all orders at no additional cost to you. Learn more here.