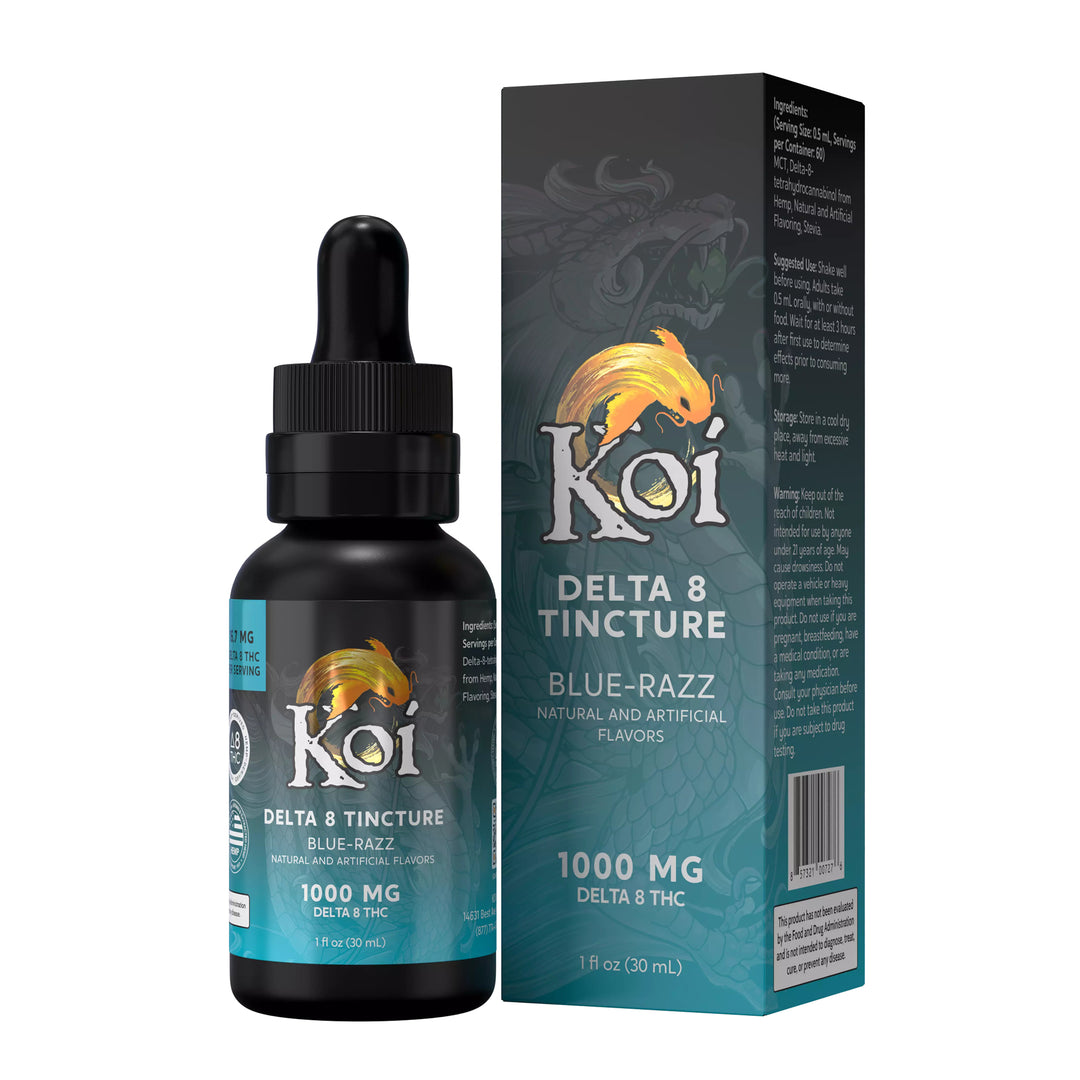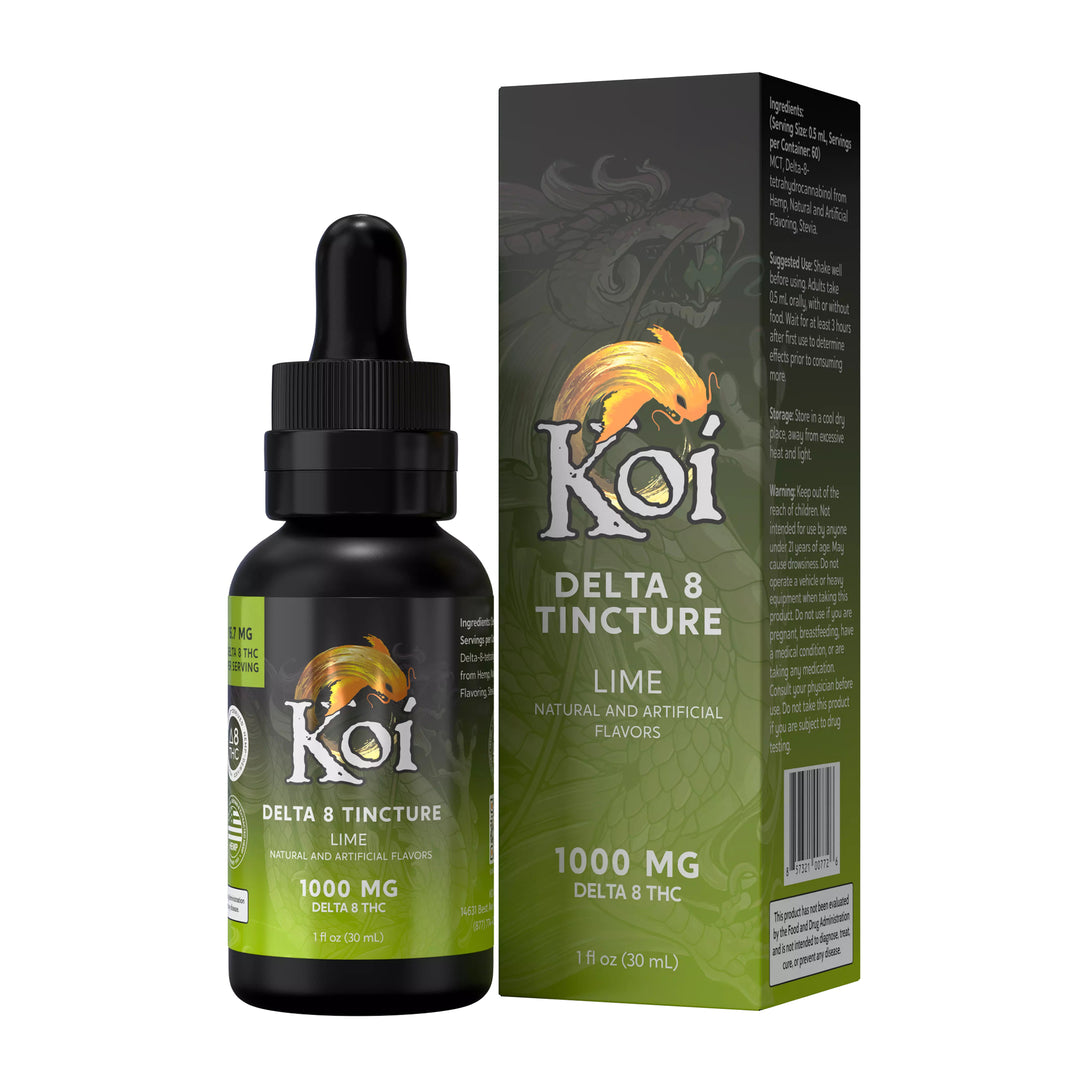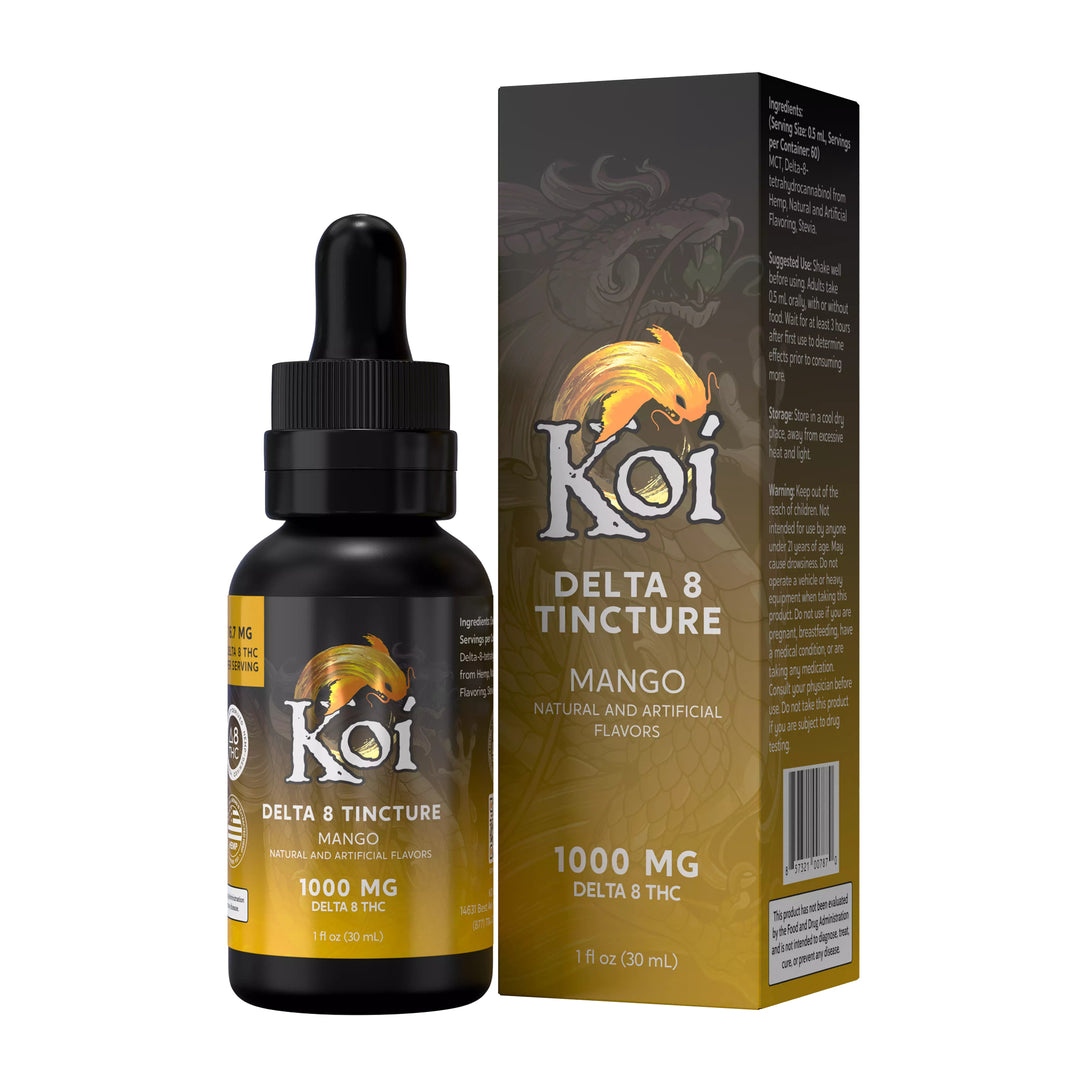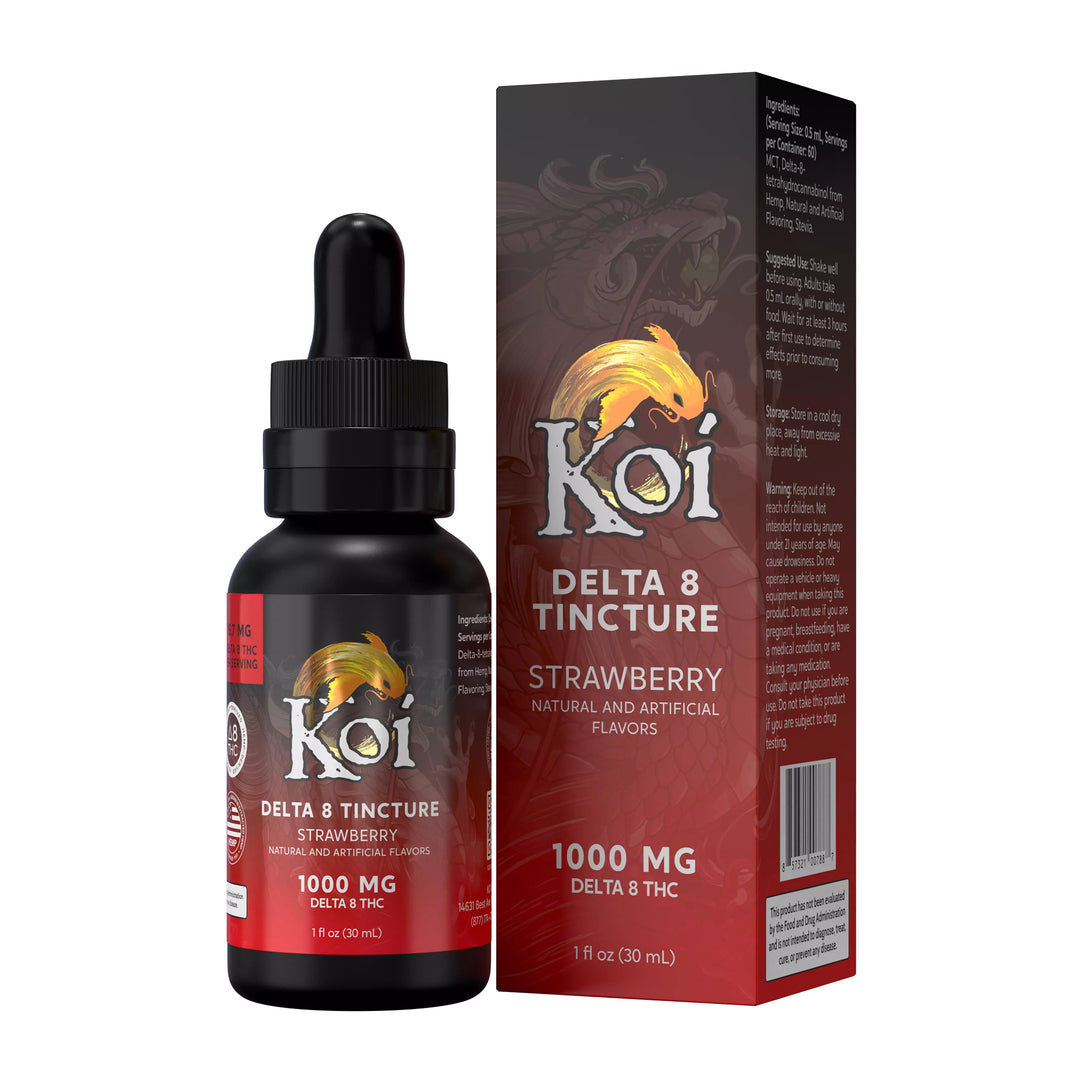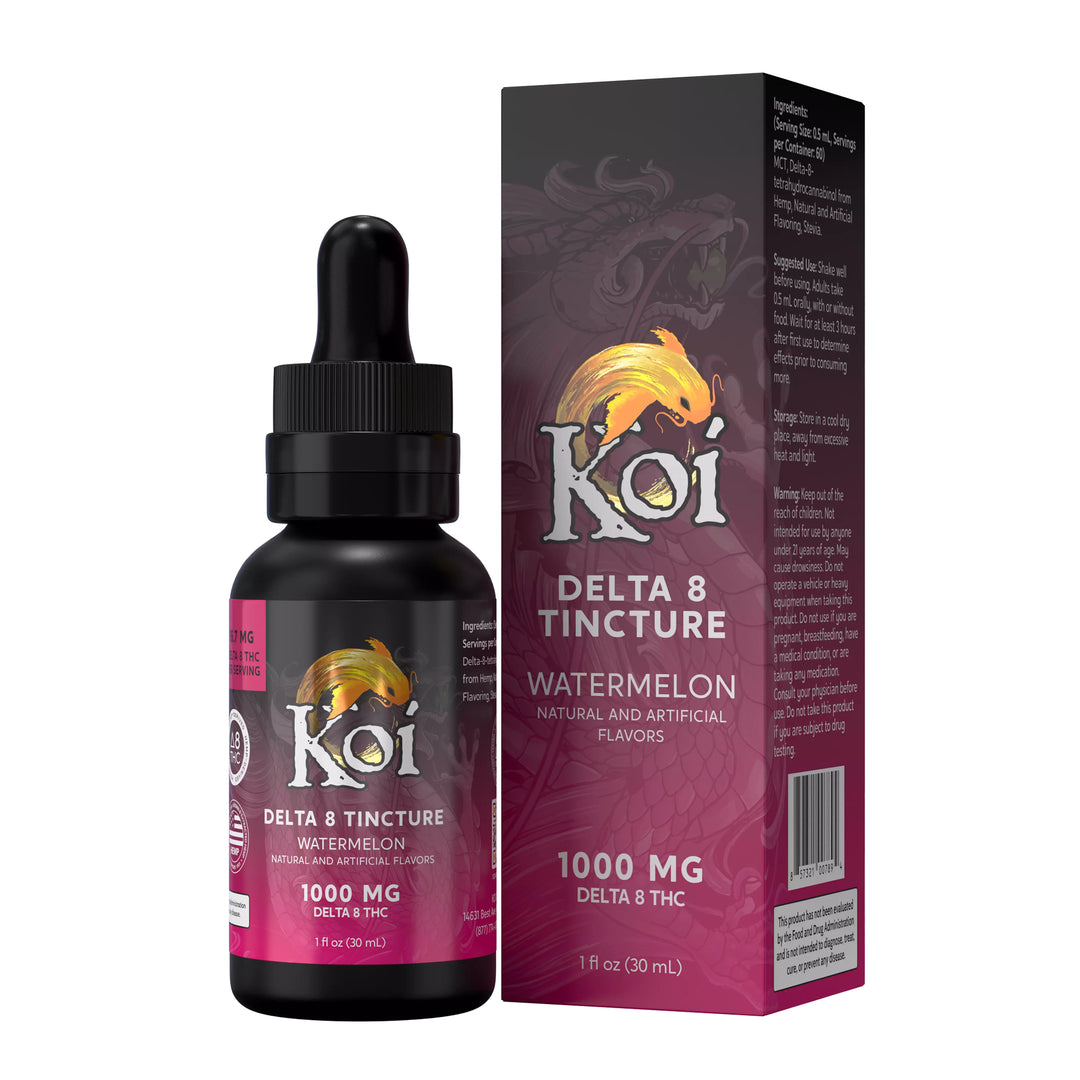 Koi Delta-8 Tincture
Regular price
$49.99
Sale price
$34.99
Save $15.00
/
---
1000mg Delta-8 per Bottle
Whether you're looking for a relaxing experience or a burst of flavor, the Koi Delta-8 Tincture has got you covered. Available in five mouth-watering flavors - Blue Razz, Strawberry, Watermelon, Lime, and Mango, you'll be able to enjoy the taste of summer all year round.
Each 30ml bottle contains 1000mg of Delta-8 THC, a powerful and unique cannabinoid that offers a milder high compared to Delta-9 THC. Perfect for those who are new to cannabis products or are looking for a less intense experience. The tincture is easy to use, simply drop a few drops under your tongue, wait a few minutes and feel the effects kick in.
The Koi Delta-8 Tincture is made with high-quality ingredients and is lab-tested to ensure its purity and potency. Whether you're looking to unwind after a long day at work or to add a touch of fun to your weekend, this tincture is the perfect solution. Try one flavor or try them all, you won't be disappointed. Order your bottle today and discover the world of Delta-8 THC.
If you do not see your batch number below, please contact us! Blue Razz
Lime
Mango
Strawberry
Watermelon
MCT, Delta-8-tetrahydrocannabinol from Hemp, Natural and Artificial Flavoring, Stevia
Your order will ship the same day if ordered by 3PM (if in stock). If ordered after 3PM, your order will ship the following day. Please note that orders placed on national holidays and weekends will be sent the next business day that Ethereal Gold Dispensary is open.
Once your order has shipped (typically via USPS), you will receive tracking information by email.
Special Orders: Looking to order a case of a product for that sweet, sweet discount? While we may not have stock of it, it will ship to from us to you (typically) within a week. You will receive an email with 1 business day of your order with an estimated shipping date.
See our Special Order terms for more information.
Subscriptions: Subscription orders will ship the same day if in stock. If a subscription item is not in stock (such as a Special Order of a case of a product), it will ship to you once the item arrives to Ethereal Gold Dispensary (which may take up to a week).
Ethereal Gold Dispensary automatically will use discreet shipping on all orders at no additional cost to you. Learn more here.